It's been a hot topic lately: There's enormous pressure that comes with working in social media and sports. Social media managers don't just carry the weight of the brand at their fingertips. There's also pressure to get more eyeballs, better reach and be hip. Add this pressure on top of the addicting nature of social media (as in the instant gratification of shares and comments) and it's a pretty intense situation.
This combination of internal and external pressure has caused an interesting trend in social media and sports: The idea that to win the Internet you have to resort to snark and edge. With the recent Houston Rockets incident, we've had many people write about the industry. People have talked about how it's hard to balance the need to win on Twitter while remaining on brand. The notion that you have to be snarky and edgy to get reach is not true though. There are many ways to resonate with fans.
So if snark and edge aren't the key to success, then what is?
The voice of an organization on social media should be an internal team exercise— not just that of the social media manager. Once the voice and tone are set, it is up to the social media manager to leverage his or her creativity on the platforms, writing ability and artistic eye to shine. Creativity isn't limited to voice and tone alone.
It's time to shine light on some of the creative ways teams and leagues have won their fans over— in a fashion other than snark. There's so much more creativity in this industry than an edgy voice.
Below are just a few examples of how teams/leagues have resonated with fans through creative use of the platforms, good content, stellar writing and thinking outside the box:
1- Hawks Spotify Playlist
After the Hawks' winning streak came to an end, the team delivered a special message to fans through a Spotify playlist. Not only did the move resonate with fans, but it garnered media attention:
We have a special message for our fans…with a little help from @Spotify: http://t.co/laYWhZkXoT pic.twitter.com/dlKstvOkpk

— Atlanta Hawks (@ATLHawks) February 3, 2015
2- NY Rangers Go Lowercase
The New York Rangers have done away with capital letters during the NHL Stanley Cup Playoffs as they face the Washington Capitals. The no-caps policy is enforced on Twitter, Instagram and Facebook. This is a smart and fun play that has earned them media attention, including a write-up in Mashable. It's not about snark, but about being clever.
so we meet again #nyr

— New York Rangers (@NYRangers) April 28, 2015
3- Trail Blazers GIF in Review
Forget the regular season recaps, the Trail Blazers decided to take it up a notch and celebrate their year in GIFS. The team created a fantastic, interactive Tumblr where fans could relive the top moments in GIFS. It's a smart use of an often underutilized platform, and a great way to capitalize on a popular trend (GIFS). View it here.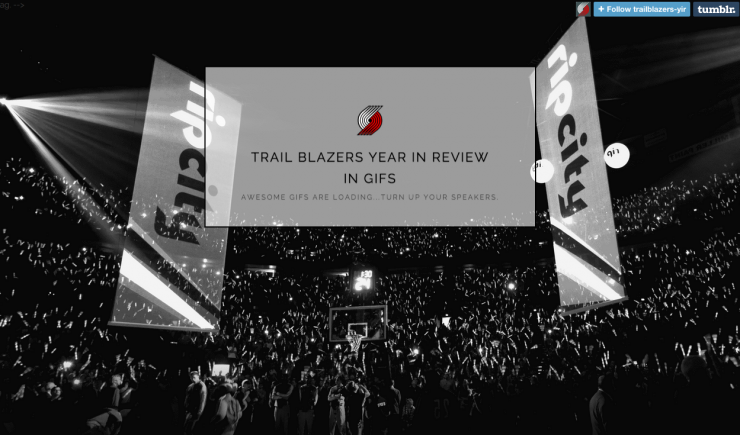 4- 'Night Before Christmas, Sports Edition
It all started with a simple "Night Before Christmas" tweet from the Phillies on Christmas Eve. Other teams took note and decided to join the fun. The result was an epic sports-style version of the "Night Before Christmas". This was a quick-witted use of Twitter. A great example of how teams can engage with one another the right way!
.@Rockies @Reds @Phillies And Mama in her 'kerchief, and I in my cap. pic.twitter.com/s32ZZizDU6

— MLB (@MLB) December 25, 2014
5- Forty Viners
Forty Viners was launched in 2014 as a way to create one-of-a-kind Vines about upcoming games, behind-the-scenes content, highlights and more. The campaign, which continues into the upcoming season, features work from well-known Vine artists as well as creations from fans (featured on video boards or on 49ers.com). It's an amazing example of creative content. Below are a few examples:
These five examples above skim the surface of creativity in the industry. Winning on the Internet doesn't have to mean snark and edge, unless of course that is simply the brand's stick. Through strong writing, creative content and pushing the boundaries of platforms, social media managers can win fans over again and again.
---
What are some of your favorite examples of creativity in social media and sports? Please share them below!
Thanks for reading!