I recently wrote an article about how social media managers don't have to take the content journey alone. For many who work in social media, one of the hardest tasks is creating content that adds value 365 days a year. If you work in sports though, thankfully, that is normally NOT the problem: The problem is having too much content.
While I was writing the article though, I naturally kept coming back to how user-generated content could be leveraged in the sports industry. Just like a lot of brands outside of sports, I normally see it used for contests. Quite simply, it's vastly underutilized.
I think it's time for teams and leagues to start thinking about how they can integrate consumer-generated content into their regular routine. Let's start leveraging the power of fans on a regular basis. Here's why I think it's important in the sports industry:
It gives you more content, while being cost effective.
It would be great to have an extra hand or two to help us capture content during games and events, but budgets don't always allow for that. Leveraging user-generated content is a great way to get more content while not dipping into your budget.
It shows a different perspective.
UGC could have a lot of leverage for teams and leagues on game days, providing unique perspective only fans can provide. Your social media team might not have the time to run around from tailgate to tailgate to capture content, but here's the good news: They don't have to.
It connects fans even more to the community.
There are a lot of stats out there that demonstrate how consumers trust CGC, and while I don't think trust is normally an issue in the sports industry, it does help your fans feel more connected to the online community. Additionally, people are more likely to share content they are a part of. Quite simply, it makes your community stronger and is an easy way to thank your fans.
Getting the content.
So are you convinced that user-generated content has value, but not sure exactly what that looks like? Let's take the first step: How do you source user-generated content beyond contests? There are two key ways to gather user-generated content:
Leverage owned channels.


Soliciting user-generated content on owned channels is common practice in the fashion industry. Many of my favorite brands allow consumers to upload photos of them in the item and leave a review on the product. Free People is a great example of it here.Teams and leagues can replicate this model from the fashion world and solicit user-generated photos on their owned channels year-round. It's a great way to build a community on owned platforms, while also generating ways to create new content for social media. A win-win!If you want to solicit user-generated content on owned channels year-round, but are afraid it might get stale, think about setting themes of what you are looking for around seasons, sports, themes, etc. Don't forget to thank your fans and surprise / delight them when they upload content.

Promote what you're looking for.


You don't have to run contests just to ask for UGC. Let fans know what type of content you are looking for, give them hashtags to rally around, ask them to leave photos in the comments section of Facebook, etc. If you don't ask, you won't receive.
Actively seek it out.


One of the many benefits of social media is the ability to listen, see and engage with your consumers in real-time. Take advantage of this opportunity and set up searches (any and every keyword / hashtag relevant to your team or league) to watch for good user-generated content. When you see something that strikes your fancy, just ask if you can use it.  Fans normally say "yes", and in fact, are honored.
Have the content? Now make it your own.
One of the biggest mistakes made with user-generated content is simply retweeting, regramming, etc. or just uploading ALL the photos to Facebook albums by the masses. If you have permission to the use the content, then make it your own instead.
Take the time to repurpose the photos / videos with your team's look and feel and craft copy that will appeal to your ENTIRE audience. This is the key to using UGC on a more regular basis and making sure it resonates with your community. Just be sure you always thank and call out the fans that helped to make the post come to life.
But, what does this look like?
Sometimes it helps to have examples to see the possibilities. So, let's pretend I run social media for the Southeastern Conference. Being a one-person social media team, there is no way that I can be everywhere at once to cover all the schools. This is where user-generated content comes in to help!
In order to leverage it, I would first pick the type of content I'm looking for. How can UGC fit into the story we are trying to tell? While I don't know the SEC's objectives and goals across social, one story I believe the conference could tell is tradition.
Since it's football season, I did a simple search of school's hashtags or keywords and came across four photos (yes, only four for time's sake) that highlight traditions in the SEC and created the image below. Obviously more work would need to be done to create the look / feel and thank the fans, but you get the idea (PLEASE NOTE: The graphics below are not from the SEC. I created them for demonstration purposes):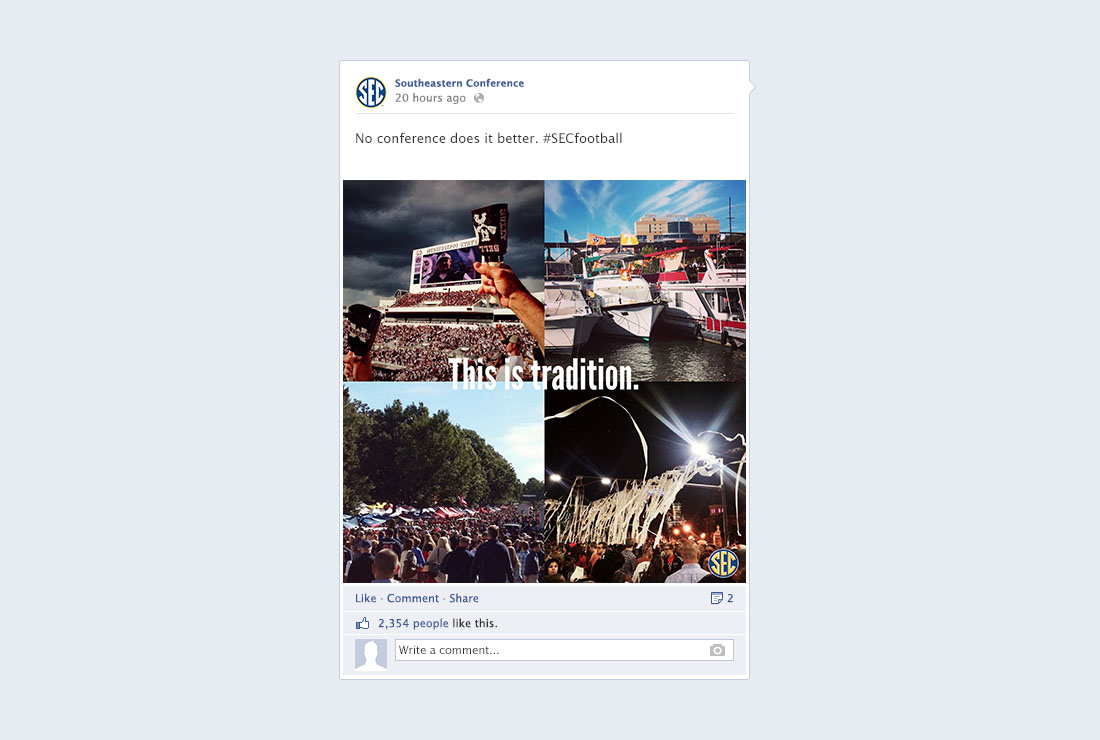 Or, let's pretend the SEC wants to feature some stadium sunsets: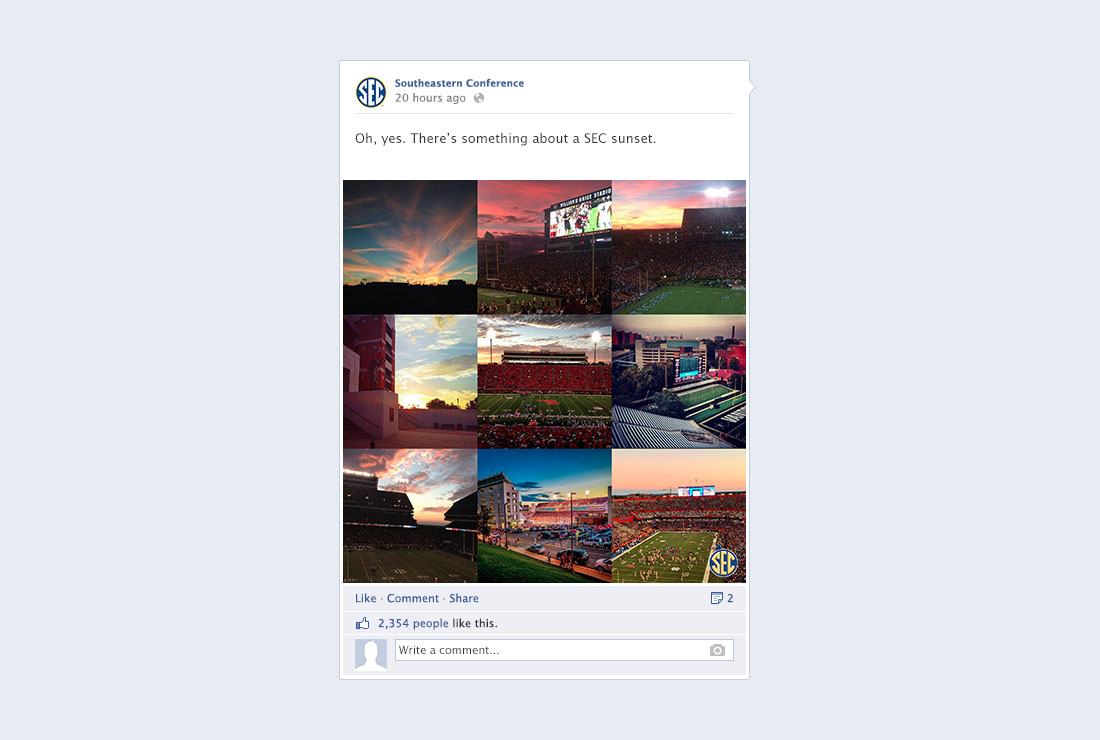 What if the SEC wants to promote selfies (yeah, sorry):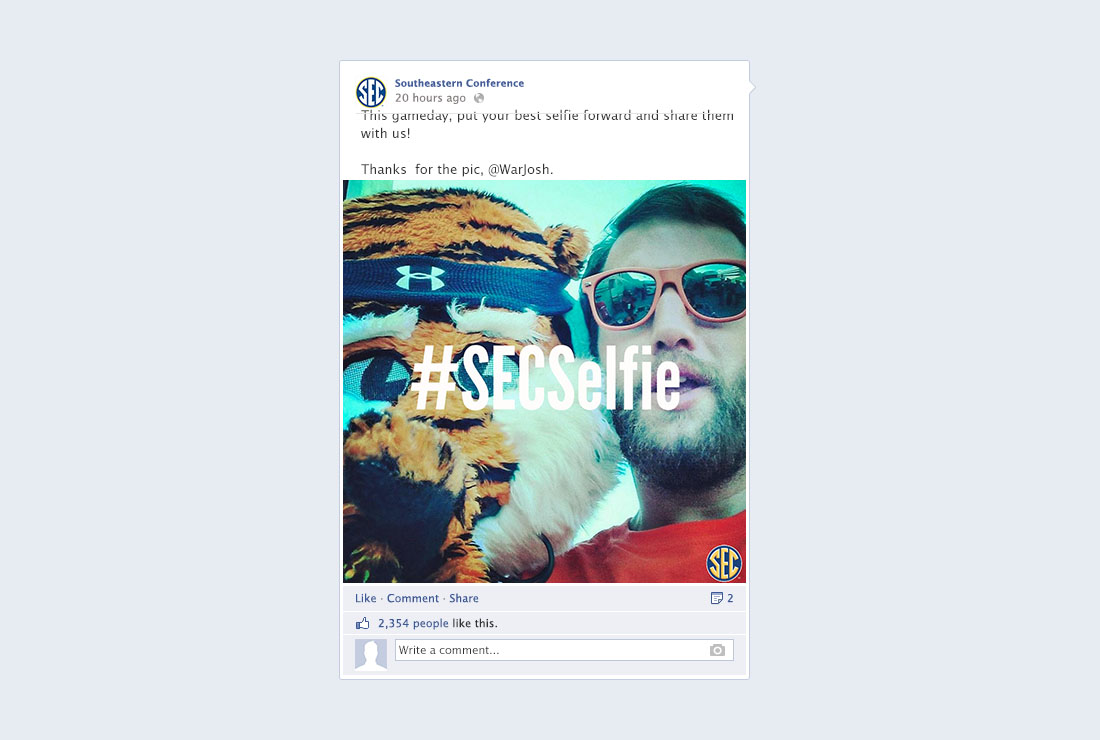 If you want to think really big, you can use fan-generated video to create a compelling compilation like Baylor Athletics did (thanks for the find, Katie Cavendar) or UCF (the videos from Instagram were saved from InstaSave):
As you can see, the options are endless. Both teams and leagues can leverage user-generated content to tell the story of traditions, fan perspectives, in-stadium experience, view from the student section, spots around campus, selfies with mascots and so much more. Fans are already out there creating great content for teams and leagues: Now it's up to you to empower them, find it, ask for it and leverage it.
Do you have any great examples of teams and leagues leveraging user-generated content? If so, share them below!