By Tammo Walter, 160over90 Newport Beach
Chances are, you know University of Oregon for its athletic accomplishments – from the birthplace of Nike innovation; to the rise of America's greatest distance runner, Steve Prefontaine; to UO's historic Hayward Field and 'Track Town USA' moniker; and its championship-material football team.
You might not know, though, about the University's amazing academic stories. UO is an R1, AAU institution, which puts the school in a short list with the top research institutions across the nation. Still, UO is small enough in size to maintain a close community and approachable nature. It's a place where you can run into the President at Eugene's Saturday Market, bump into your professor on a walk to Autzen to see a football game, or sprint alongside an Olympic athlete on your morning jog.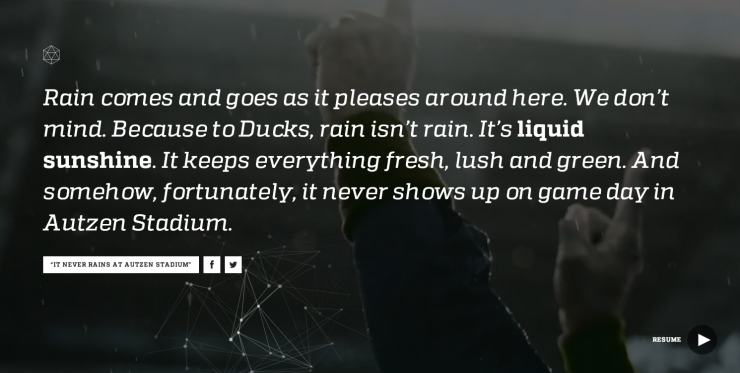 What's different about this campus than many others is the unique sense of academic collaboration, where innovation comes from the intersection of disciplines. Green chemistry meshes with product design. D1 Football players pursue BFAs. Students double major in cinema studies and physics.
And campus-wide, there's what we call 'wonderlust' – an insatiable need to explore, ask questions, and ultimately achieve great things and find ways to change the world for the better.
So at the launch of a new brand campaign designed to elevate state, national, and international understanding of UO's academic achievements, 160over90 leveraged Oregon athletics as a 'handshake' to tell the complete UO story. And it just so happens that the Ducks presented us with one of the biggest national platforms to do so – the most-watched Rose Bowl in history.
Just before the game against Florida State, Oregon rolled out its new academic website and a campaign microsite, Explore If. And a 0:30 anthem TV commercial broke during half time of the Rose Bowl, following Florida State's spot. [If you weren't already feeling bad for FSU, now you really did.]
The commercial is centered on the idea of 'If.' 'If' sits at the very core of the wonderlust that drives UO's exploration, collaboration, and innovation.
The commercial was launched to over 28 million ESPN viewers and 92,000 in-stadium game-goers. And it prompted people to action. In the hour after the ad aired, Oregon's web traffic quadrupled. Visits to the academics information page doubled, while traffic from the school's homepage to the admissions page was six times what is was the previous year when the Ducks beat Texas in the Alamo Bowl.
The 'If' spot aired on ESPN [which garnered an 18.5 overnight rating] when Oregon took on Ohio State University in the College Football National Championship.
Because "If walks like a duck and quacks like a duck … and goes for it on fourth down." "If is running the play while the other team is catching their breath." And "If will change the game. If will change the world."
Learn more at www.exploreif.com.
---
In addition to the spot, the larger campaign will employ a mix of traditional, social, and guerrilla tactics — including print ads, radio spots, Duck mascot pop-up appearances, digital billboard runs, targeted outdoor advertisements [from wallscapes to train and bus wraps] in West Coast power markets, and more — throughout the year to highlight UO's storied history of experimentation, innovation, and collaboration. In each execution, the team behind the campaign is balancing the University's strong local commitment with UO's far-reaching contributions and increasingly global impact, and to affirm UO's position among the nation's premier academic and research universities.
A big thanks to Tammo Walter and Caleb Mezzy of 160over90 for bringing this post to life. You can follow their work at 160over90.com. 
Like what you read? Please share!
0