GIFS have been all the rage for quite some time. We see them on social, we seem them in text messages and sometimes we're lucky enough to get them in emails.  They have taken on a pop culture relevance more than we probably could have imagined; a way for people to connect their emotion and responses to certain situations. There's just something relatable, interesting and/or eye-catching about a good GIF.
Twitter has capitalized on the GIF trend by introducing GIF search on their platform (powered by GIPHY). Whether composing a Tweet or Direct Message, users can search and browse the GIF library by keyword, categories and reactions.
This is where the opportunity comes in. Since the search is powered by GIPHY and GIPHY offers branded channels, any brand that has a GIPHY account now has a greater opportunity of fans sharing their content. Win, win, win.
@GoHeels has an account. This is a great example of how valuable and easy it is for fans to share the content through this new Twitter feature: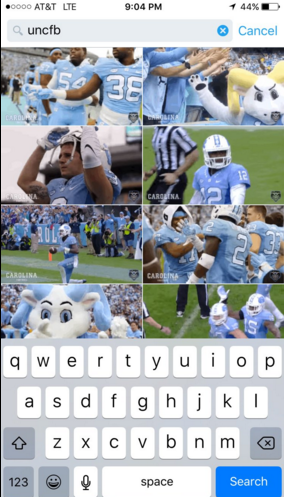 To get a branded GIPHY channel, you have to apply here. If you are approved, make sure you spend time:
Building your content collection and tagging it
Adding some kind of watermark to your content so you get credit
Cross promote it.
After that, it's time to let fans fans share away and promote team/brand love!
---
What do you think about teams have their own GIPHY channel? Share your comments below.
Thanks for reading!
Like what you read? Please share!
0