We talk a lot about digital being marketing and marketing being digital. But in order to walk the walk, we have to approach our channels and campaigns more seamlessly. This means that every marketing campaign or initiative should start with a singular idea or message. And, from there, the message and execution is molded to each channel.
Of course there will be times when you have digital-only initiatives, but for the most part, everything should still ladder back to broader brand priorities. This type of marketing maturity takes focus and purpose. Too often it feels like teams operate in the wild, wild west (especially in digital). There is inconsistent messaging, a focus solely on scores and the in-venue experience completely different than the digital.
Brand marketing might be one of the most underrated aspects in sports, especially with how it relates to digital. A strong brand strategy gives a reason for being, focusing on what makes your team unique and helps to build an emotional connection with fans.
The Sixers rolled out an amazing campaign, #PhilaUnite, for the playoffs in honor of their first birth since 2011- 12. The campaign fires on all cylinders, from in-venue to creative and fan engagement. The inspiration behind the campaign is rooted in their city's history while also celebrating the present and its new edge (read details here).
According to the team, the campaign "builds upon the 'Spirit of 76' initiative by combining the bell logo, inspired by imagery from Philadelphia's 1976 bicentennial celebration, and the segmented snake, a hidden feature on the City Edition uniform that is derived from Benjamin Franklin's historically-significant political cartoon of 1754." More insight below:
"The 'Phila Unite' campaign was thoughtfully developed for our fans and city over the past several years in anticipation of this moment, the moment when the 76ers returned to the NBA Playoffs," said Chris Heck, Philadelphia 76ers President of Business Operations. "The energy in the Greater Philadelphia Area is electric right now and we wanted to rally together all of our fans from not only this region, but from around the globe. 'Phila Unite' pairs the rich and storied history of our city with the passionate, proud fans who we consider irreplaceable members of the 76ers family. We're thrilled that this moment has finally arrived and look forward to watching the best fans in the world come together for the 2018 NBA Playoffs."
If you want to know what a thoughtful and deliberate brand campaign looks like – that's integrated across all channels – look no further than #PhilaUnite. Below is a quick look at how it came together across channels. And, as you'll see, the concept and execution is flawless.
Social + Digital
On social, the campaign has come to life seamlessly. The launch was led with a strong hype video, and from there, the design elements and messaging have been carried throughout (even with sponsored content).
All of the design work great example of what it looks like to refresh and elevate your messaging + graphics package when you're on the big stage. And, how to keep it consistent yet fresh during a campaign.
The @NBA Playoffs are coming…#HereTheyCome x #PhilaUnite pic.twitter.com/Tdsv1j3iu2

— Philadelphia 76ers (@sixers) April 11, 2018
Philadelphia, Unite.#PhilaUnite pic.twitter.com/qeVA1cIV4k

— Philadelphia 76ers (@sixers) April 12, 2018
🎨 @DraftKings Play of the Game 🖌

Artistry in motion.#PhilaUnite x #HereTheyCome pic.twitter.com/5LH8swOq7T

— Philadelphia 76ers (@sixers) April 16, 2018
Tonight, we unite.#PhilaUnite x #HereTheyCome pic.twitter.com/qIw9V4jeV6

— Philadelphia 76ers (@sixers) April 14, 2018
Game 2 … who's ready?

📺: @NBAonTNT / @NBCSPhilly
📻: @975TheFanatic
📱: #PhilaUnite x #HereTheyCome

Presented by: @RothmanOrtho pic.twitter.com/Qng4HUzGcq

— Philadelphia 76ers (@sixers) April 16, 2018
Fan Engagement
In addition to strong creative, the Sixers gave fans the tools they need to get involved. Through a microsite, fans can join the movement and make their very own playoff graphic.
We talk a lot about UGC in the industry, but I especially like this because it's UGC with purpose. It's a badge of honor that rallies and unites their fans. And, it makes them feel part of the journey.
Create your very own #PhilaUnite pic and join the playoff movement! #HereTheyCome

📱 | https://t.co/aMuvuL7IOe pic.twitter.com/gtWv6jYdnU

— Philadelphia 76ers (@sixers) April 11, 2018
Leveraged Philly Athletes
We all know that it helps to have athletes and influencers join the conversation. And, #PhilaUnite has had it's share of athletes join the conversation.
Enlisting influencers and athletes in and outside of your roster is a critical piece to your distribution strategy. It helps expand the reach and adds a level of credibility you can't get elsewhere.
LETSS GOOO! @sixers #HereTheyCome ❌#philaunite pic.twitter.com/R9xeMWnIhu

— Jalen Mills (@greengoblin) April 14, 2018
Playoff time! Let's go @sixers ! Can't wait to watch this run y'all about to make! #philaunite pic.twitter.com/RPXaeIF33m

— Carson Wentz (@cj_wentz) April 14, 2018
PLAYOFFS?! You wanna talk about playoffs??? Let's gooo! Game 1 tonight!! Stoked to watch these dudes ball out 🏀 #PhilaUnite #HereTheyCome pic.twitter.com/LGchkyTexW

— Rhys Hoskins (@rhyshoskins) April 14, 2018
Physical World
Integrating campaigns into the physical world, especially when we talk about rallying a community, is a huge piece of an integrated campaign. And, it appears #PhilaUnite presence is felt throughout the city. The Sixers staff strategically placed the campaign throughout the whole city. More than 10,000 76ers playoff logo decals were distributed by their staff and they adorned their city walls with #PhilaUnite murals.
Whether it's the street art or a decal scavenger hunt, the people of Philadelphia will no doubt stumble on this campaign and hopefully get engaged. And all of these initiatives are Instagram-worthy, so there's a very real chance the installations are being shared online.
Sixers Playoff Logo going up all over the city including 6 murals. PLUS, Try to find the hidden snake when you see the City Edition game uniforms. #PHILAUnite @sixers pic.twitter.com/KUjTIh3dXZ

— Bob Kelly (@BobKellyFOX29) April 11, 2018
good luck tonight, @sixers! 🏀#PhilaUnite | #HereTheyCome pic.twitter.com/gZ48Ip0aR2

— honeygrow (@honeygrow) April 14, 2018
Game Presentation
And finally, from the pictures it looks like the campaign came to life beautifully in-venue. The perfect bow to tie it all together.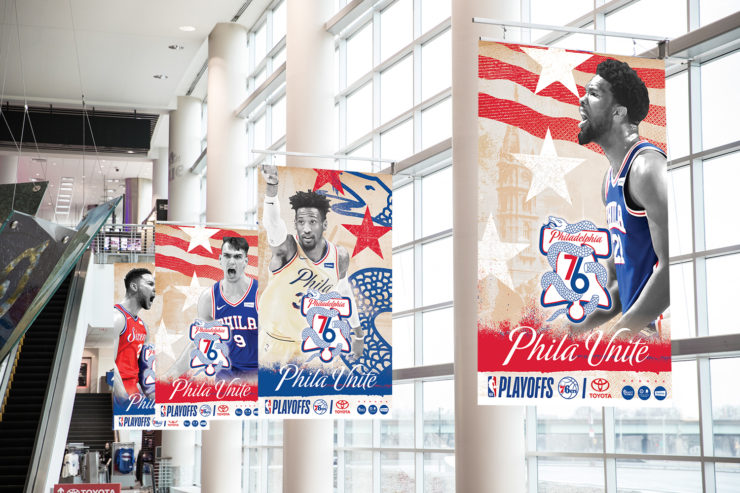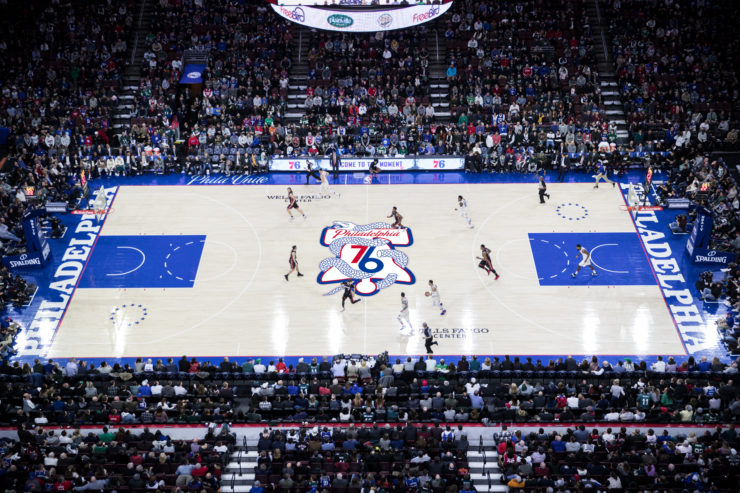 .@Sixers new #PHILAUnite Campaign touches down on the home court, for Round 1, Game 1 of #NBAPlayoffs – pic.twitter.com/ST7dSUy2Fq

— Lara Toscani Weems (@LTWPhilly) April 15, 2018

One look at #PhilaUnite and it's easy to how much thought and energy was put into the campaign. Aside that this is a really strong brand marketing push, here's what I like about the campaign:
1. They executed well across all channels.
A vision without execution is just a hallucination. Sorry for the corny phrase, but this is so true. The Sixers did not just do a great job concepting their campaign. They did an amazing job bringing it to life across ALL channels. The result is an impactful and cohesive campaign that is guaranteed to reach their consumer, wherever they are. That's no easy feat.
2. Their creative is driven by insight.
The best type of campaigns are driven by strong creative briefs and clear objectives. It's evident that this campaign was driven by both. There is so much intent and meaning behind their design, infusing both history and the present. Good brand work comes when creatives are armed with the right information. It's so critical marketing teams spend time on the brief and that collaboration is seamless with the agency/creative.
3. They thought about the fans.
This campaign was as much about the fans as it was the teams. The Sixers made it easy for fans to get involved, rally and share the #PhilaUnite message.
The beauty about sport is that it's so much bigger than the scores. It joins communities and brings people together. And, every marketer in sport should be focused on giving fans the tools they need to share in their fandom, just like the Sixers have.

The #PhilaUnite campaign is a great example of what a 360 marketing campaign should look like. The Sixers aligned on a message and overall direction, then figured out how to bring to the campaign to life across all channels. The result is an impactful brand push that is consistent across channels, no matter the consumer touchpoint.
Breaking down silos across channels is the only way to get work done like this. It's about looking at marketing holistically from digital to game presentation. It's about being focused and purposeful with your message. And, it leaves a lasting impression.
Everyone in sports should be paying attention to brand plays like this. After the scores, the thing that separates every team is how they define their DNA, their culture, their personality, their brand.
Like what you read? Please share!
0