The verdict is out! The US Soccer Women's Team didn't just win with their on-the-field performance; they also won with their social media strategy. From great behind-the-scenes coverage to fantastic graphics, their approach to social was some of the best we've seen in the industry. Many in the #smsports community agree.
@WarJessEagle @ussoccer_wnt speed/preparation, consistency, influencer partnership with other sports & teams, inside access, so many things

— Kevin DeShazo (@KevinDeShazo) July 1, 2015
@WarJessEagle @ussoccer_wnt influencers. Great photography. Many easy ways for fans to engage.

— Eric Nichols (@ericnichols) July 1, 2015
@WarJessEagle I love how timely @ussoccer_wnt has been with graphics on SM. From pre-match to substitutions, their branding is phenomenal.

— Morris E. White III (@morrisewhite3) July 1, 2015
With all the great coverage, what can we takeaway? Below are some thoughts on the lessons learned from US Soccer's rockstar approach to covering the World Cup.
No. 1- Plan for what you can control.
The social media and sports industry is a weird beast because you have to plan for the unexpected. Social media managers can't predict the outcome, but there is still a large need to prep.
In most industries evergreen content is staple. For sports, it's real-time content. It's not an option to create content in the moment; it's just an option of how well you do it.
Looking through US Soccer's content, it is clear they didn't focus on what they couldn't control. Instead, they planned for what they could control. This is key to winning the live coverage game.
@WarJessEagle great job having graphics/features in queue when an individual player does something significant. Leveraging the moment.

— Eric Wieberg (@ewieberg) July 1, 2015
Want to see actual examples? Here is a look at some of the ways they planned for the World Cup.
Graphics
It's clear US Soccer did a lot of prep work with graphics because of the speed at which they were able to turn them out. If they had not prepped, then they would not have been able to share them instantaneously.
@WarJessEagle the graphics…crisp, clean but still offer intensity…not to mention the timing, zero delay, photos are key.

— Jackie Berra (@jackie_berra) July 1, 2015
In addition to the speed, the graphics looked sharped (as @jackie_berra pointed out). The branding was crisp and clean and the template design was often tweaked to mix up the look and feel (without stray from the branding). Through a long tournament or long season it's a great idea to mix up the look and feel a bit for fresh graphics. Here's a look at a few of the graphics shared during the tournament:
Features and Videos
Along with creating a look and feel for the graphics, US Soccer also did a lot of prep work with videos and features. The features, like "One Team. One Nation. 23 Stories" helped fans get to know the players on a more personal level. It's important to look beyond the field and tap into stories of the team, just like US Soccer did.
@WarJessEagle great job having graphics/features in queue when an individual player does something significant. Leveraging the moment.

— Eric Wieberg (@ewieberg) July 1, 2015
The team did not let these features and videos go to waste either. They had them in the queue for whenever there was an opportunity to promote a player. Here's an example: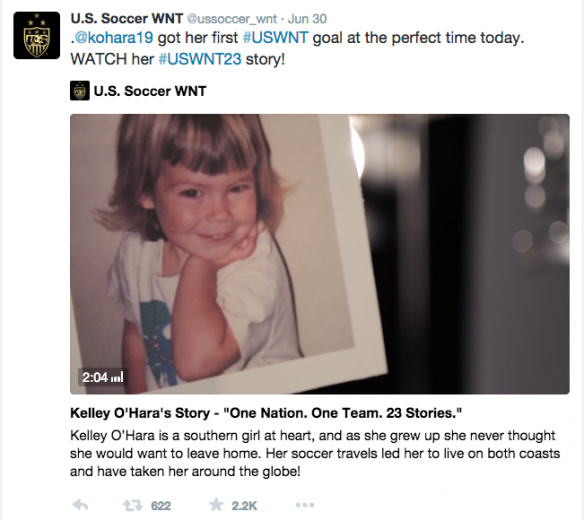 No. 2- Bring fans inside the journey.
Behind-the-scenes content is important in sports. After all, there is a lot more to a team's journey than on-the-field action and scores. Strong social media coverage brings fans beyond the scoreboard and inside the team's journey; it taps into the heartbeat of the team, community and players.
Behind-the-scenes content is important for several reasons:
First, this content is often exclusive to the team or league. In the noisy world of social media, inside access provides value to fans. They crave it.
Emotion evokes people to share. And, sports are emotional. They're even more emotional when you tell a story beyond the game itself. Tug at people's emotions with the full storyline. Let them get to know the people behind the jerseys.
Finally, it helps to humanize the team. It is easier to connect with the team/players when fans see players off the field in more intimate and familiar moments. Behind-the-scenes content of the day-to-day makes players a little relatable.
US Soccer's access for the Women's World Cup was beyond anything we have seen. From the players relaxing at the hotel room to locker room access after their win, US Soccer did a fantastic job of giving fans a look behind the curtain.

No. 3- Great content trumps gimmicks.
US Soccer didn't have a sassy, sarcastic or off-the-wall brand voice, but their reach was out this park. Why? Because they focused on good content and storytelling.
@WarJessEagle enjoyed how they played it straight but were able to add color thru text and pictures. Didn't try to get too clever.

— Alex Souza (@_AlexHSouza_) July 1, 2015
There is a trend in social media and sports to push the envelope when it comes to brand voice, even when it doesn't reflect the organization. US Soccer proves that if teams focus on good content and tell a story, then they can rally fans and generate excitement. Of course winning doesn't hurt, but the team had great engagement even before their winning streak began.
You don't have to resort to gimmicks to win on social media. If you stay true to your brand, share content that adds value and engage with your fans then you'll put together a winning presence.
No. 4- Immediacy is key.
It's important for teams and organizations to focus on being in "the moment" with fans. Fans should feel like they are sitting in the living room with the team reacting in person. Being immediate with coverage is important for several reasons. First, emotions are higher right after something happens (and emotions cause people to share). Second, if you aren't one of the first to the story you'll get lost among the noise.
The conclusion is out too. US Soccer did a really good job with their speed of coverage:
@WarJessEagle @ussoccer_wnt Substitution graphics are some of the best I've seen. Plus, as a bonus, posting nearly immediate game photos.

— Matthew Lerman (@mattlerman18) July 1, 2015
@WarJessEagle Speed to market. In-game tweeting is enhanced for fans when it's done in the moment, not minutes later.

— Tom Buchheim (@tombuchheim) July 1, 2015
Here's a look at some of the content they were able to roll out during games with near real-time photos:
If you want to step up your game coverage, take the time to work through a process and flow. It's impossible to cover a game solo and do everything you want. Find ways to work with your photographer, designers (creating templates ahead of time), video staff, etc. It takes teamwork to be immediate and add value.
No. 5- Tap into your network.
US Soccer again (like they did in the Men's World Cup) mobilized fans, teams, celebrities, etc. online in an impactful way. Their influencer campaign worked because it tapped into US pride and went beyond the sphere of soccer to draw in fans that otherwise might not follow the tournament.
@WarJessEagle love how so many pro athletes/teams promoted the graphic templates. All of #Merica rooting together! pic.twitter.com/DJXG0FV62H

— Bryan B. Blair (@BtotheBlair) July 1, 2015
@WarJessEagle @ussoccer_wnt The influencer support across all sports, teams, athletes, and celebrities has been most impressive.

— Chris Stearns (@PuraVidaChris) July 1, 2015
@WarJessEagle Integration of influencers throughout the tournament, and also the custom graphics.

— Bob McKamey (@BobMcKamey) July 1, 2015
@WarJessEagle They have done a good job getting endorsements from celebrities/teams. The sub cards also are cool. #WWC

— Wendy Mayer (@WendyAMayer) July 1, 2015
Here's a look some of the people that chimed in their support:
My guess is US Soccer did a ton of planning with their influencer program. Even then, they also did a great job listening online to leverage to influencers who chimed in organically. Not only did they retweet ambassadors, but sometimes they got creative. Here's a good example of how they included Tom Hanks in an impromptu way: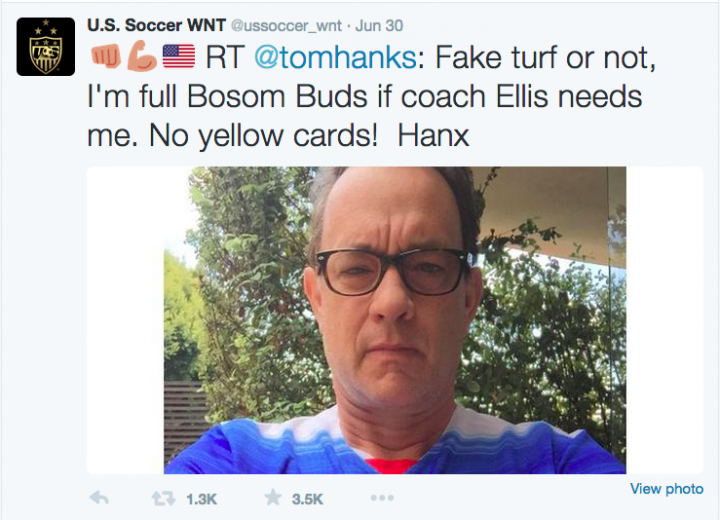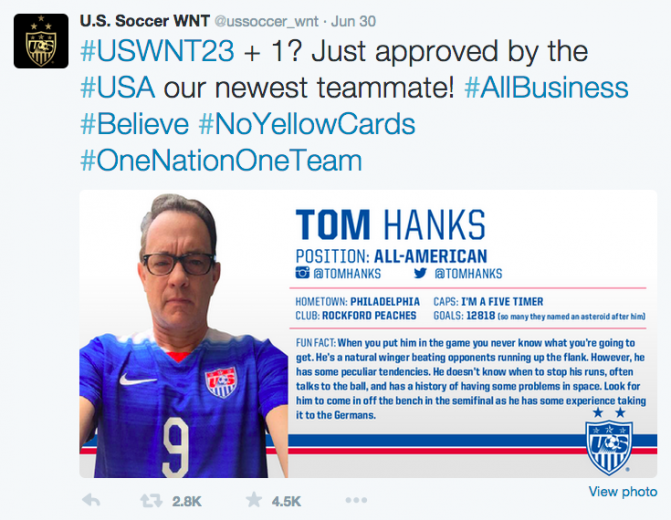 If your team wants to attract a wider audience, a smart and strategic influencer campaign could be a great place to start. Take the time to strategically mobilize people online and listen ambassadors you can reward.
No. 6- Build an emotional connection with fans.
Social media is not just about pushing all the time; it's about building a community and engaging with fans. While US Soccer didn't have the chance to engage with fans all the time, they did find unique ways to bring fans into the community and build a more personal connection.
One of my favorite examples is from US Soccer's #SheBelieves campaign. US Soccer fielded questions from fans on Twitter. They then selected certain questions and let players share words of encourage and advice through video. What an amazing personal piece of content for fans (and something even other fans liked to watch).
GREAT idea from @ussoccer_wnt! Fans share their dreams using #SheBelieves & players offer personal advice. http://t.co/PQ0hsLLYEb #smsports

— Jessica Smith (@WarJessEagle) June 2, 2015
US Soccer also got creative with fan-generated content, even using motivational tweets in the team's locker room. Here are two examples (submitted  by @_KyleBruce).
You've heard their stories and they've made you believe. Now, it's time to believe in them. #USA #SheBelieves pic.twitter.com/wAgKcuGGrU

— U.S. Soccer WNT (@ussoccer_wnt) June 8, 2015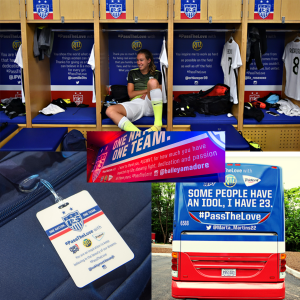 All of these gestures help build an emotional connection with fans. They lets fans know the team is listening and cares.
No. 7- Find the team's theme.
Every season and every year is different. It's important for social media managers to tap into their team's story and theme; it helps to build a more a storyline and differentiate the way you approach content year after year.
US Soccer did a great job of rallying around a theme for their team. The theme was 23 strong. The emphasis was that person on the team could and would make an impact. This was not just a one-man team, but a roster of 23 impact players. Here are some great examples of the content they produced around this theme:
As you can see, there is a lot for us to takeaway from US Soccer's coverage of the Women's World Cup. And, this list just skims the surface. If you have an interest in social media and sports, then I highly recommend you take the time to look through US Soccer's Twitter, Facebook and Instagram  account for inspiration. The case study will be worth your time!
---
Now let us know. What stood out to you about US Soccer's coverage of the Women's World Cup?
Thanks for reading!