Snapchat is no longer the new platform on the block. And while it took time for brands and teams to join the party, it is now a staple in many brands' social media presence.
For those not familiar with the platform, Snapchat is a messaging app focused on sharing "fleeting" moments. Users take a photo or a video, add a caption or doodle and send it to a friend or add it to their Story to share it with everyone. Snaps are set to view for up to 10 seconds, and then they disappear.
There are many reasons your brand, team or league might consider activating on Snapchat. If you are trying to reach a younger demographic, then it is definitely a platform to consider. The platform has 100m+ active users with their core audience being 18 – 24 years old.  Additionally, Snapchat engages users in a more authentic way. Users chose to view your content. The platform has a leg up when it comes to capturing consumers one-on-one attention.
If you decide you want to activate on Snapchat or already have an account and want to ramp it up, here are tips to get you started (with a little help from others in the industry):
Have fun.
Snapchat isn't a platform where users are debating theory and the world's meaning. It's a platform that is meant for light-hearted content, silliness and fun. Take a look around you. Watch people's phone habits. If you spot someone on Snapchat, I guarantee they're taking a selfie or showcasing something humorous.
It is important for brands, teams and leagues to mimic user habits. Be native and true to the platform. This means brands, teams and leagues cannot take themselves too seriously if they want to succeed on Snapchat. Two of my #smsports friends said it best:
@WarJessEagle On Snapchat, be fun! Don't use your AP Stylebook. 😉 Talk like you would to friends (within reason).

— Jamie M. Blanchard ♥ (@JamieMBlanchard) July 20, 2015
@WarJessEagle @Snapchat Think like the fan. Give them exclusive access that's meaningful & that resonates.

— Markeisha Everett (@MarkeishaDenise) July 22, 2015
Bottom line. Think like a fan and have some fun.
NASCAR's Snapchat account is a great example of a brand that does not take itself too seriously on the platform. They've embraced the fun, quirky nature of the platform and found a way to create content that is entertaining— whether or not you're a NASCAR fan.
Focus on people.
Snapchat content is raw and full of first-hand perspectives. Typically, people and personalities are the center of the content. A people-first approach is a great way for teams and leagues to handle Snapchat. Step away from the ticket sale plugs and promos; let your players and personnel show a peek inside their lives and personalities.
@WarJessEagle I heavily involve our student-athletes. Makes the tone more authentic and recruits + young fans like that connection!

— Makayla (@mhipke) July 20, 2015
.@WarJessEagle having athletes engage. Ex. teaching students the fight song on @Snapchat before arriving on campus pic.twitter.com/DIYVESTYxd

— Amie Kiehn (@amiekiehn) July 20, 2015
There are many ways to get your people and personalities involved in the content, from "digi" autographs to full Snapchat takeovers. Here's a look at some people-first content from the MLS (many of this content comes from takeovers):
A great case study for this is @OU_Players. The Oklahoma Athletics Snapchat account has a niche focus: The sole perspective of its student-athletes. Yes, their Snapchat account is in the hands of its players (hence the name). This approach is strong for several reasons. First, it really stays true what type of content performs well on the platform. Forget the corporate promos, @OU_Players is going to be a real and raw. Secondly, it defines a unique niche for Oklahoma's Snapchat presence, providing a point-of-view fans won't see consistently on their other platforms. It's a smart strategy!
Cross-promote the account.
Snapchat doesn't have hashtags where users can search rich content and stumble upon your account. It's important to cross promote your account because of that. Focus on promoting it during the launch, special campaigns, unique content initiatives, etc.
@WarJessEagle: Tease your content on other platforms. Brand a SnapTag to help make your account stand out. #SMSports pic.twitter.com/tqAH1gzQ3E

— Lynnea Phillips (@LynneaPhillips) July 20, 2015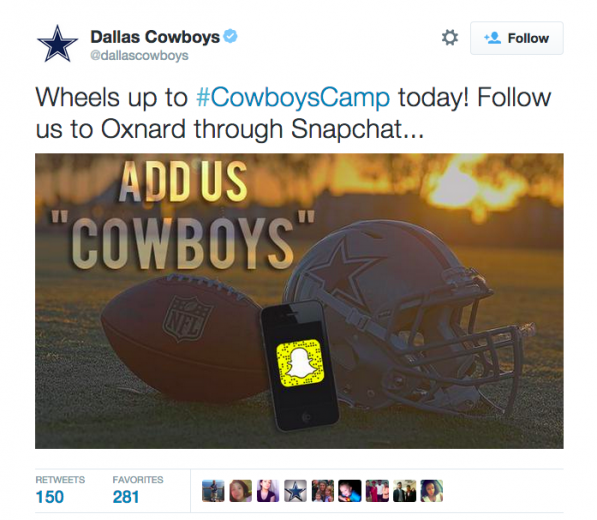 Snapchat has also made it easy for users to add friends through custom QR codes. To add someone, users take a photo of someone's QR code using the Snapchat camera. Take a screenshot of your account's QR code from your phone and promote that picture on Facebook, Twitter, Instagram, etc. To add your team account, all a fan has to do is open the app, point the camera at their computer screen (and on the ghost) and tap. You can even customize your QR code with a unique look and feel (directions here). A simple and cool way to cross-promote your account! Below are two examples of customizing the QR code.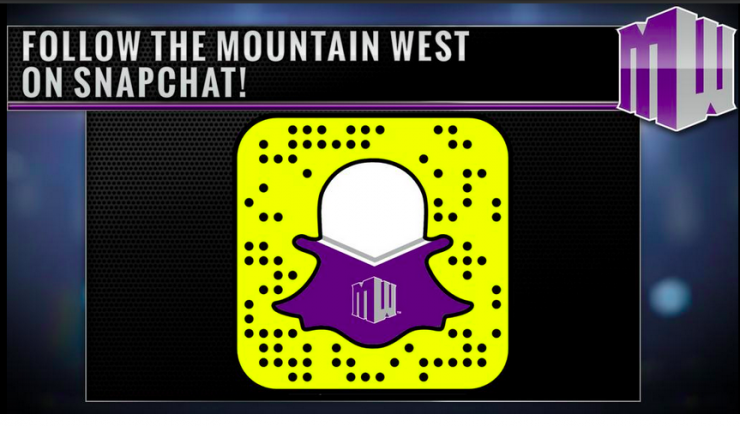 If you don't promote it, fans won't find it!
Enlist creatives.
There is a whole world of creative people on Snapchat telling stories through a unique lens and fantastic doodles. Find those creatives who are also passionate about your team, league and brand to enlist them for a takeover during a game, event, etc. Using Snapchat influencers/creative people can help tell the story in a unique way and even bring other people into your account (if they cross-promote).
Always love when @bryanwcook shares his doodle talent with us on @Snapchat! 👻: nascar pic.twitter.com/H7obs6M1ct

— Kyle Sheldon (@kylesheldon) July 19, 2015
For a good example of branded event content on Snapchat look @MLS with @mplatco and @emgarbersnaps – great stuff! pic.twitter.com/eSQTuZAefl

— Delmondo (@delmondoNY) May 11, 2015
You can also look internally for people on your team who don't work in social, but have a knack for drawing or are power Snapchat users. Can they provide a unique perspective and collaborate on the account in a way that adds value? Don't go at the Snapchat journey alone. Make it interesting. Enlist creative Snapchat users.
If you want to see what a true Snapchat influencer can create, check out Shonduras here.
Engage fans.
It's important to find unique ways to get fans to interact and engage with your content on Snapchat. This helps foster a deeper relationship with your fans and will have them coming back to your stories and snaps over and over again.
There are many ways to engage fans on the platform. From doodle contests to unique promotions, below are a few case study examples.
Kansas City Chiefs
The Chiefs asked fans to submit their own doodles of Jamaal Charles for a chance to win a prize. To get more out of the use-generated content and engagement, the digital team used the graphics on their site as a photo gallery for more staying power. This is a great way to engage fans and see their creativity.
Tampa Bay Lightning
The Tampa Bay Lightning participate in an annual tradition surrounding the NHL's Stanley Cup Playoffs known as the Beard-a-Thon® to raise money for the Moffitt Cancer Center. This year they encouraged Lightning fans to join them in the campaign.
One of the ways fans joined the campaign was to share their beards on Snapchat to LightningNHL or post them on twitter with #BoltsBeards to be featured on the Lightning beard gallery. The Lightning got more than 500 submissions. And like the Chiefs, this was a great way to rally fans and get them involved.
MLS Snapchat Voting
This year the MLS turned to Snapchat to have fans vote for the all-star captain. To vote, all fans had to do was take a screenshot of the player they wanted. The prompt to have fans take a screenshot is a unique way to engage fans, and it definitely works well as a voting mechanism.
Use the features.
Snapchat has several features that make the platform unique from photo filters to doodling. These features are part of what makes the platform fun. Leverage them to make the content stand out.
Unsure how to unlock all the features? Below is a video that shows you unique Snapchat tips from the full color wheel, unlimited text, creating an animation and more. There are many videos like this on YouTube. A simple "Snapchat tips" search will unlock hours of distractions and unlimited potential.
Unlock the geofilter.
Snapchat allows users to upload geofilters, which are special overlays for Snaps that can only be accessed in certain locations. To leverage, simply choose the geographic area you want your filter to be available in and upload an image asset (more info here). Geofilters are a great way to leverage brand ambassadors and have others promote your team. Here's an example of some geofilters:
MLS actually held a geofilter contest that also ties back to enlisting creative and engaging the community. For the start of the season, the league offered fans the opportunity to design original geofilters for four different MLS markets during opening weekend. To enter, fans had to post their original artwork on Twitter using the hashtag #MLSsnapchat for a chance to win. The league selected one overlay for each market to win. Here's a look at the winners:
Tell a story.
Snapchat Stories are a way to add Snaps together to create a narrative. Think flipbook. When you add a Snap to your Story, it lives for 24 hours under "Recent Updates" where friends can explore it at their leisure before it disappears. This is the key for brands: Instead of having to send a Snap to every Snapchat friend individually (and spamming them), users and brands can now add a Snap to their Story that lives for 24 hours for their entire Snapchat audience to consume.
Brands and teams can now reach the masses on Snapchat and not worry about one-on-one messaging. This update eliminates tedious work for brands, opens the door for long-form content and allows teams to push out content without annoying their fans (since fans decide if they want to view it.
The key to great Stories on Snapchat is to focus on quality Snaps and an interesting narrative. Do not just throw content on at your fans; think about an interesting way to piece together Snaps that relevant, interesting and fun. James Royer of the Kansas City Chiefs said it best:
@WarJessEagle think of the platform as an art palette to get true engagement. Stories of mass images & videos strung together is lazy.

— James Royer (@jamesroyer) July 22, 2015
Think of the stories at the narrative. Be artful, strategic and add value.
Give a glimpse inside.
Because content on Snapchat is often raw, behind-the-scenes looks work really well on the platform. Find ways to piece together narratives that give fans access; some them something they don't see through traditional coverage. This will help build a stronger bond with fans.
@WarJessEagle unedited behind the scenes content is always appreciated and involving players on the account also gets attention.

— Jonathan B.-Mailhot (@jbmailhot) July 20, 2015
Takeovers, as mentioned above, are a great way to give fans a glimpse inside. Don't be afraid to look beyond the players to see who else can host takeovers. From coaches to the operations staff, there are a lot of ways to give fans a look inside the team, league or season.
The Saints do a good job of giving fans inside access from their account:
I hope these tips help you as you brainstorm ways to use the platform. And in case you need a little more inspiration, here's some additional, awesome Snapchat content from leagues and teams:
---
What tips do you have for Snapchat? Be sure to share them, along with your favorite follows, below! 
Thanks for reading.