Rivalry weekend is one of the best in college football. It's a day rooted in history, emotion and unpredictable outcomes. And just as players and coaches pour themselves into preparing for the big game, so do countless social/digital staffs across the country (which means endless inspiration). Below are a few of the top highlights over the weekend, from a creative Instagram Story execution to GIF inspiration.
1- Video Storytelling
We don't see enough video storytelling in sports beyond the highlight reel. Hype music and big hits are great, but what sets your team apart from the rest? It's the history, the passion, the tradition, the people.
Rivalry weekend lends itself to fantastic storytelling, whether or not your team is having a storied season. From a quick scan, there weren't a lot of emotional videos this weekend beyond the highlight reel, but below are two that stood out.
#BeaverNation is family. Today, we fight together for our state. #CivilWar pic.twitter.com/A5Su5CcCVL

— Go Beavs (@BeaverAthletics) November 26, 2016
Remember that sport offers a lot more than just the scores. As you plan out your coverage for the season or a big game, find inspiration from your people (players past and present to fans), your history, your tradition and beyond. Tap into what makes the game and team emotionally compelling and you'll create content that wins.
2- GIFspiration
The average person's attention span is now shorter than a goldfish. Keeping this in mind, moving image is a great opportunity to capture fans' attention. Below are some of the GIFS that stood out over the weekend.
Touchdown. pic.twitter.com/tliM3orNRH

— Georgia Football (@FootballUGA) November 26, 2016
#TheHunt pic.twitter.com/JTUxoemDMv

— Chris Ash (@CoachChrisAsh) September 22, 2016
J.T. Barrett now has 100 career TDs responsible for! pic.twitter.com/xxDfYtyZ7K

— Ohio State Football (@OhioStateFB) November 26, 2016
70 YARDS! TOUCHDOWN TCU!! Darius Anderson breaks away for his first-career score. #BeatUT

TCU 31, UT 9 | 4Q, 7:32 pic.twitter.com/MRn6EEjAzy

— TCU Football (@TCUFootball) November 25, 2016
#GoDucks #CivilWar pic.twitter.com/PTrzgBtXms

— Oregon Football (@WinTheDay) November 26, 2016
Wide. Open.

Dobbs ➡️ Malone. 27 yards. 31-24 #Vols. pic.twitter.com/2iHGUN6b04

— Tennessee Football (@Vol_Football) November 27, 2016
SACK by @UchennaN_42!

Notre Dame facing 2nd and 23 from its own 8.#FightOn #BeatTheIrish pic.twitter.com/SdkumOg3pY

— USC Trojans (@USC_Athletics) November 26, 2016
We have a new record holder!

Harold Landry records his 14th sack of the season, a new BC single-season record! pic.twitter.com/40RZf7cSa8

— BC Football (@BCFootball) November 26, 2016
At the end of the first quarter, #kufball trails the Wildcats by three pic.twitter.com/R910FmFbL3

— Kansas Football (@KU_Football) November 26, 2016
TOUCHDOWN BOILERMAKERS! Blough to DeAngelo Yancey from 31 yards! Purdue takes the lead! #BoilerUp pic.twitter.com/p5UfDdsznX

— Purdue Football (@BoilerFootball) November 26, 2016
Hat trick 🎩🎩🎩 for @J_ManPRime21. #B1GCats pic.twitter.com/Ot2Xq7Mlsv

— #B1GCats Football🎩 (@NUFBFamily) November 26, 2016
3- Simple + Sharp Salute To Seniors
Since rivalry week is the last regular season game for players, it's a great time honor them and their commitment to the school and team.  Tap into their reflections, their accomplishments, their sentiment.
Mizzou had a beautiful tribute on Instagram to their seniors. They went with a nostalgic feel to salute to their seniors, then returned to color imagery after win. The result was a visually appealing, beautiful execution. Here's a look at how it played out: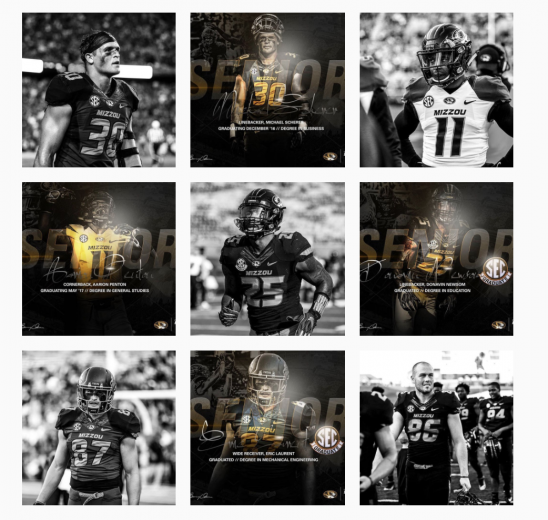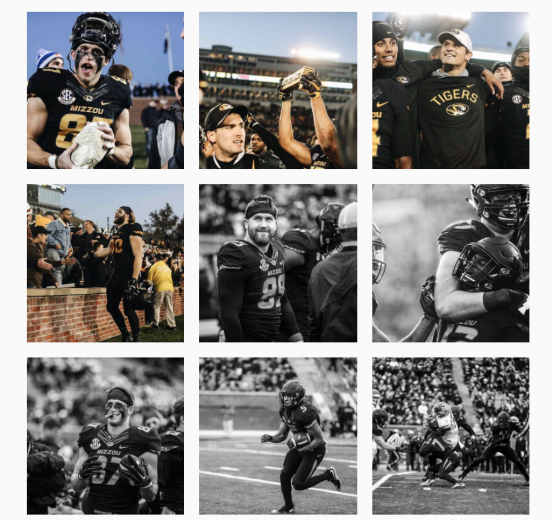 In addition, this simple but powerful video from Clemson was a nice nod. There's something to be said for strong, cinematic footage and simplicity.
https://www.facebook.com/pg/ClemsonFB/videos/?ref=page_internal
4- POV Narrative on Instagram Story
Clemson executed an amazing Instagram Story during rivalry weekend. Under the premise of a point-of-view narrative, they told the story of "The Dream Gameday".  If a fan could go anywhere on gameday, what would they do?
The digital team at Clemson put together a high level storyboard and then gave a student intern the keys to execute. And he executed brilliantly. The minute I started watching I wondered who the person was and where they were going next. The Story wasn't just interesting; it felt personal and intimate (like a best friend's account). Here's a snippet of the content (sorry it's not in order):
How many times have you seen a player run on to a field on Snapchat or IG Story? Too often "point of view" executions lack storytelling and creativity. The tools are abused before it's easy to hold a button and capture content, but POV tools are only as good as the idea and the content creator. This from Clemson is a great example of elevating the game.
---
What else stood out to you over the weekend? Share below.
Thanks for reading!
Like what you read? Please share!
0