Guest Post by Adam Navarrete
Last night's Home Run Derby was an action-packed event that featured new faces and a new bracketed format. But what was missing from the festivities was usage of one of the newest social media platforms. To be fair, it wasn't until after the Home Run Derby was over that it dawned on me:
Of the seven teams represented (Angels, Blue Jays, Cubs, Dodgers, Orioles, Rangers, & Reds), not one team used Periscope to broadcast a single at-bat from their Home Run Derby contestant, or any other content for that matter.
Taking a closer look, all seven teams (as well as Major League Baseball) have a Periscope account. And collectively, they have 128,805 followers standing by for what could have been unique access to the #HRDerby. Instead, out of the seven teams and the MLB:
– Eight hadn't updated their bios from what was pulled in from Twitter
– Five hadn't uploaded a profile pictures
– Four hadn't streamed for the first time
– And all eight hadn't streamed within 24 hours of the Home Run Derby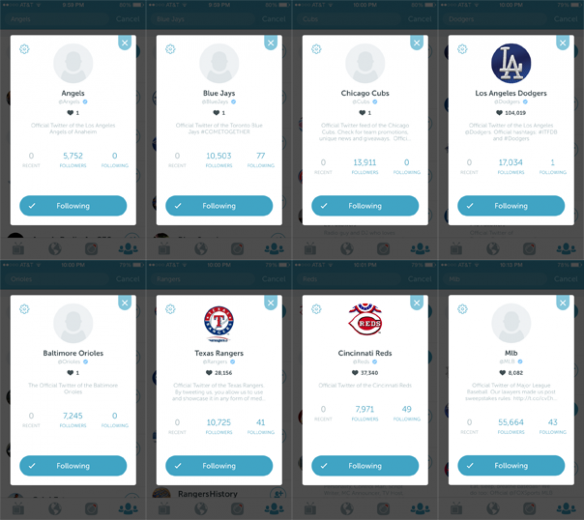 Up to this point in the season, both fans and teams have been streaming everything from games to press conferences to batting practices. So missing the opportunity to share behind-the-scenes content during the Home Run Derby seemed strange. And it wasn't due to lack of interest.
A quick search on Twitter revealed fans were using Periscope to share the moment, with one of the better ones being Todd Frazier's final at-bat that was shared from on the field by Juan Pablo Galavis, a former professional soccer and The Bachelor contestant.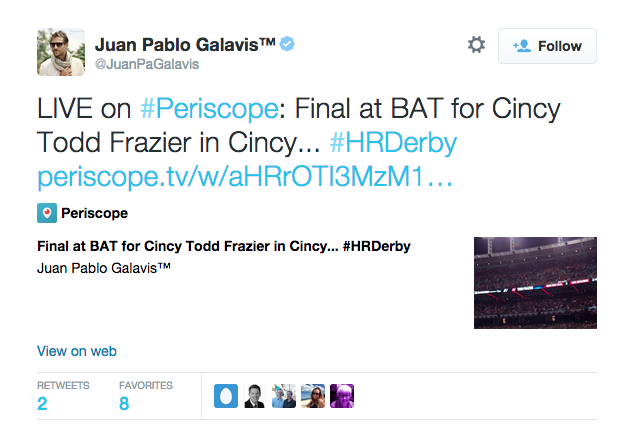 The five and a half minute clip shows Juan Pablo sitting on the American League's side of the field, talking to All-Stars and tracking Frazier's home runs. And it is a perpetual heart-explosion the entire time while viewers commented things like: I'm loving this, that's amazing and thanks for doing this!
Eight hours remain in the 24-hours time limit since Juan Pablo's Periscope went live, and so far, it has had more than 6,887 replay views, 68 live views and generated 17,872 hearts. There's no doubt the interest in the Home Run Derby was there. According to Topsy, there were over 243,000 #HRDerby tweets last night.

Of course, Twitter, Instagram, Facebook, Snapchat and Vine were all utilized by teams during the evening, which makes Periscope's absence even more conspicuous. Here are several unique scenarios that come to mind where teams could have used Periscope:
– Inside the batting cage tunnels
– On the sidelines with other players and their families
– Post-round interviews with the contestant
– Allowing fans to ask questions to the players
– Players answering questions and saying "thank you" to fans
– Interviewing the Home Run Derby winner
Social media is no longer perceived as a megaphone. It's a means of engaging, conversing and rewarding fans. And, Periscope could have been an opportunity for teams to engage and reward fans through a unique point of view.
It would be interesting to know if the lack of Periscope usage during the Home Run Derby was a conscience decision to not use this new platform by individual teams and/or Major League Baseball. I'll be paying closer attention to tonight's All-Star Game to see if teams use Periscope or not. One thing is for sure though: Whatever reasons teams had for not using Periscope, it's important for all of us in the industry to embrace – not fear – new technology that would enable us to provide fans with new and exciting access to their favorite players and teams.
---
This is a guest post by Adam Navarrete, co-founder & CMO at IdealSeat. Adam's playing fields are digital media and sports marketing. Connect with him on Twitter at @AdamNavarrete.