The NBA consistently sets the bar as a league in social media, so it comes as no surprise that the teams stepped up during Round 1 of the NBA Playoffs. From clever copy to stellar video content, the coverage was consistently on point.
And even though Round 2 of the NBA Playoffs is in full swing, it's not too late to reflect on the great social moments of the playoffs so far. Here are 50 memorable social media moments from teams during Round 1 (in no particular order). It's hard to capture all the great moments, but this list at least shows why NBA teams continuously get praise for their social media work. Enjoy!
1- Hawks Make it About Family
The Hawks always find unique ways to rally their fans. As the playoffs kicked off, they asked fans to change their last name on Twitter to "Hawks". It's great to see teams use unique call-to-actions because it builds a strong sense of community among fans.
Families share last names, and you're a part of ours. Change your last name to Hawks on your social media accounts if you're in the family!

— Atlanta Hawks (@ATLHawks) April 16, 2015
2- Strength in Numbers Video Series
The Warriors have produced fantastic video content this season. One series that stands out is "Strength in Numbers", chronicling their season in chapters. The Warriors have continued the series into the post-season and the content continues to get stronger and stronger. The series does a great job of hyping up fans, tapping into emotion and telling a piece of the story. Below is a look at three "Strength in Number" videos created for Round 1. Together these videos had more than 400,000 views on Facebook:
3- Brooklyn Nets Use Storify to Provide Players' POV
The Brooklyn Nets created a Storify featuring tweets and social content from their players during Round 1. Players are obviously a huge part of a team's story and this example is a great way to leverage them, their stories and point of view. See the Storify here.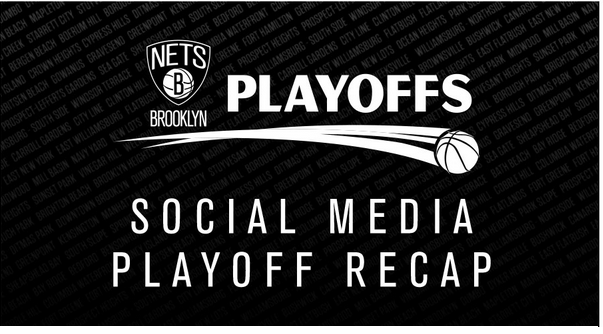 4- Pelicans Use a Simple But Powerful Pairing
Content does not have to be labor intensive from a creative point of view. This example from the Pelicans shows how strong copy with a strong image can resonate with fans, with or without design work.
5- Hawks Have Fun With Post-It Notes
The Hawks had a little fun in the office, so they used the opportunity to create social content. This is a great example of how content opportunities are all around. Keep your eyes and ears open and get creative!
It's amazing what you can do with a bunch of Post-It notes. #TrueToAtlanta pic.twitter.com/Eaj6TqKVlc

— Atlanta Hawks (@ATLHawks) April 16, 2015
6- Cavs Thanks Fans & Look Ahead
Once the Cavs secured a spot in the Playoffs, they released a video thanking their fans and looking towards the playoffs. The video features the players saying "thanks". It would be easy to have two different cuts of this video ready to go– one if the team makes it and one if the team does not. The video is a great example of planning ahead with content and catering to your fans:
Thank you, #CavsNation! See you Sunday. #AllForFans https://t.co/dLwzSqmlNc

— Cleveland Cavaliers (@cavs) April 16, 2015
7- Bulls Let Artists Take the Reigns
The Chicago Bulls have one of the sharpest Instagram accounts in the NBA. Their look is fresh, clean but also dramatic. Take a look through their photos at the engagement and you'll see that the content resonates with fans too.
During Game 1 the Bulls let two artists takeover their Instagram account. The artists' style fit the team's look and feel, and they ended up producing stellar content for them. This is a great example of leveraging influencers creatively!

8- Brooklyn Suits Up
Inside access is important in sports, but access doesn't have to be intrusive. This picture from the Brooklyn Nets is a great example of giving fans a peek behind the curtain without being invasive:
9- Spurs Create Quickly
The Spurs were able to tweet out this celebratory graphic for Kawhi Leonard during the game and it got great traction. It's a good example of the need to turn out quick, sharp graphics during milestones and moments of celebration. Creating templates can help ease the process and turnaround time.
http://twitter.com/spurs/status/591809511632936960
10- LA Clippers Create Time-lapse Video
When thinking through a content plan, it's important to figure out how to differentiate the content and provide a unique point of view. Time-lapse videos, like this one from the @LAClippers, are one way to do so:
Playoff basketball in #timelapse. pic.twitter.com/5iNPnloUQF

— Los Angeles Clippers (@LAClippers) April 20, 2015
11- Cavs Hype Kids Wins
This hype video is everything. Not only is this hype video fantastic, but the Cavs asked fans to create their own hype video. It's a great example of thinking outside the box, having fun and getting fans engaged with a call to action.
Did you see this kid hype up the crowd on the @HUMONGOTRON today? You could too: http://t.co/oQ10YWGtb3 #ALLinCLE https://t.co/XPYa4IbVOi

— Cleveland Cavaliers (@cavs) April 19, 2015
12- Warriors Nail Heartbeat Tweet
This is the social media content trifecta: The perfect image, the perfect copy and the perfect timing. This is a great post from the Warriors!
.
There's a reason Coach calls him Heartbeat. pic.twitter.com/2TkflzTVuH

— Golden St. Warriors (@warriors) April 21, 2015
13- Nets Movie-like Promo
This short playoff clip on Instagram feels like a vintage movie promo. It's great to see teams mix up the type of content they share and try different themes. Differentiation is key from standing out in all the noise.
14- Cavs Prove Simple Is Often Best
The Cavs have shared emotional team pictures with simple one-word statements throughout the first round that have performed well across platforms. It's a great example of how simple is often powerful.
Together. #ALLinCLE pic.twitter.com/qF8mZHvsD9

— Cleveland Cavaliers (@cavs) April 19, 2015
15- Mavs Give Fans a Pass
Excuse notes like this from the Mavs are not new idea, but they are still a great opportunity to empower fans to share content. If a team finds itself on the big stage, it's important to share content that encourages fans to rally.
http://twitter.com/dallasmavs/status/590533180232323072
16- Spurs Show What It Means To Represent
When covering a game, it is important to keep eyes and ears open. What's the extraordinary in the ordinary? This photo used from the Spurs is a great example of finding the unusual in the arena and turning it into stellar social content.
Represent. #GoSpursGo pic.twitter.com/pMViH8OgED

— San Antonio Spurs (@spurs) May 3, 2015
17- Cavs Serve As the Eyes & Ears
The Cavs social media team caught a video of the players shaking hands after the game. This little piece of content is a small glimpse into the chemistry and camaraderie of the team. It's so important to be at the right place at the right time to capture these moments for fans.
18- Trail Blazers Journey Begins Tonight
The Trail Blazers created a fantastic promo video for the start of the playoffs featuring the voices of the players, their insight and how they felt about the games ahead. This is a different take on the normal game highlight promo videos we see; it's strong because it taps into the emotional side of the team.
Tonight, the journey begins. #PORvsMEM #BLAZERSvGRIZZLIES https://t.co/6GBzJBDqdM

— Trail Blazers (@trailblazers) April 19, 2015
19- The Clippers Lay It All On the Line
This is another great example of the perfect image and copy choice. Simple wins, so don't overthink it.
Lay it all on the line. #WeAreLA pic.twitter.com/kIX3M6Pkcz

— Los Angeles Clippers (@LAClippers) April 20, 2015
20- Spurs Share Simple Quote
There's absolutely nothing fancy about this, but it still got 23K+ interactions. The emotion in the quote does all the work. Remember, not everything has to be labor intensive. If the content taps into emotions then people will engage with it.
21- Grizzlies Practice Good Sportsmanship
Showing good sportsmanship is a great way to humanize the team and account. This is a good example from the Grizzlies.
http://twitter.com/memgrizz/status/593632957224636416
22- Warriors Get Clever
This photo is a result of a social media manager thinking cleverly on her feet. It's also a great example of creating fun content that resonates with fans without being edgy. So well done!
¯_(ツ)_/¯ #StephGonnaSteph pic.twitter.com/S6hzdJ6msS

— Golden St. Warriors (@warriors) April 21, 2015
23- Mavs Have Fantastic Creative
Not every piece of social content needs to have a lot of creative behind it, but it's always good when teams think creatively about certain graphic series. The Mavs have some fantastic creative for their score graphics, game plugs, etc.

24- Trail Blazers Stay On Brand With GIFS
GIFS are a great way to a make statement through content. The Trail Blazers do a great job of taking their own video footage and splicing it for some on-brand GIF fun. This is a great way to resonate with fans without resorting to pop culture GIFS.
Rip City. pic.twitter.com/lVtpd2koRa

— Trail Blazers (@trailblazers) April 23, 2015
25- Hawks Give Fans Hope
The Hawks tapped into the hope of the season, finding an emotional storyline for this playoff video. The message ties in nicely with their True Believer slogan. It's one of those sports videos that will give you goosebumps (and it had 185,000+ views on Facebook).
26- Spurs Share Notable Fan Content
Many teams have fans who are celebrities/influencers. It's important to monitor the conversation around teams and engage or share influencer content when there's an opportunity.
#GOSPURSGO https://t.co/Y04Qzsev9T

— San Antonio Spurs (@spurs) April 20, 2015
27- Nets Highlight Fan Photos
The Brooklyn Nets put together a simple but cute Instagram video featuring fan photos. User-generated content is a great way to build community, thank fans and create content in a cost-effective manner.
28- Trail Blazers Waste No Time
After their season-ending loss, the Trail Blazers wasted no time thanking their fans. They didn't just have a graphic and copy ready; they had a video ready to share. The video got more than 300 retweets on Twitter alone. It's a great example of being prepared.
Rip City, you the real MVP. Thanks for the support this season. https://t.co/twXefrxAiL

— Trail Blazers (@trailblazers) April 30, 2015
29- Rockets GIFs Get a Little Crazy
It's hard to know what to think of this GIF exactly. It is on brand though and certainly stands out. Nonetheless, it seems appropriate for this list because it is so… different (plus, fans seemed to like it).
Didn't take long to light the stove. pic.twitter.com/HK5L5uzNsV

— Houston Rockets (@HoustonRockets) April 22, 2015
30- Celtics Keep Game Time Simple
The simplicity in these game graphics make for a powerful statement from the Celtics. They evoke a certain nervousness (in a good way) and help fans imagine the calm before it all. It's another great example of how simple can be powerful.
31- Rockets Use Hashtags to Make a Statement
At first glance there is nothing fancy about the copy or graphic from this @HoustonRockets tweet. Look closer though: The hashtag seals the deal with perfection punctuation. Hashtags, used sparingly, can make a great statement.
Rockets win! Beat Mavs 111-99 to go up 2-0 in the series. #Predictable Howard: 28p/12r Harden: 24p/6a Smith: 15p/9a pic.twitter.com/7VKFuIrISD

— Houston Rockets (@HoustonRockets) April 22, 2015
32- Trail Blazers Have Emoji Game
Emojis have become all the rage online. In fact, they are replacing slang on the Internet. Emojis can be a great way to spice up your content when used sparingly and strategically. This tweet from the Trail Blazers is a great example of how to use emojis right. It is cool, effortless and on point.
http://twitter.com/trailblazers/status/590994743942742016
33- Warriors Plug Tickets the Right Way
When pushing ticket sales out on social, it's important to pull people in with a strong piece of content. How are you going to get their attention? A hard sell alone won't work. This tweet from the Warriors is a great example of plugging ticket sales the right way; it features a video of Curry along with the link to buy tickets.
Still some great seats available for tmrw's Game 2, including verified resale tix. BE THERE » http://t.co/dno9sLvAmq pic.twitter.com/RNBvPTPokg

— Golden St. Warriors (@warriors) April 19, 2015
34- The Bulls Showcase Staff
It's rare for fans to get a peek behind the curtain of front office staff. The Bulls found the perfect opportunity to showcase a glimpse of life for their staffers while resonating with their fans. It's all about the copy and tapping into the emotion of being "ready".
The #Bulls office is ready for Game 3, are you? pic.twitter.com/VEd4kAL1IT

— Chicago Bulls (@chicagobulls) April 23, 2015
35- Rockets With the Perfect Pair
This is just another great example of strong imagery with strong copy. Again and again simple wins.
Watching them OOPs earlier. pic.twitter.com/OjgO5Nfxyp

— Houston Rockets (@HoustonRockets) April 22, 2015
36- The Nets Lets the Image Work
Sometimes there is a perfect picture waiting for the perfect moment. This from the Brooklyn Nets is a great example of that.
When your guy makes back to back 3s #WeArePlayoffs pic.twitter.com/Ojdyel4UZh

— Brooklyn Nets (@BrooklynNets) April 28, 2015
37- The Bulls Arrive
Many of the teams in the NBA are good at showcasing their players arriving to the venue, in style of course. Below are a few examples from the Bulls. As you can see, this small piece of behind-the-scenes content resonates with fans.
We're here. @drose #SeeRed pic.twitter.com/kN5NFMVLN0

— Chicago Bulls (@chicagobulls) April 25, 2015
We're here. @JimmyButler #SeeRed pic.twitter.com/ScT4DkLrLG

— Chicago Bulls (@chicagobulls) April 25, 2015
38- The Clippers Fly Away
A large part of working in social media and sports is telling a story, from practice to travel to the game. This is a great example of telling that story in a subtle way. It's a generic plane shot, yet it got more than 17,000 likes. Why? Because fans want to be a part of the journey and this post was a simple way to bring them into it.
39- Bulls Design for the Platforms
Too often we see teams creating one set of graphics for every platform. The Bulls are one of the few that actually design for each one, making the content much easier to consume.
#BullsWin and take a 3-0 series lead! pic.twitter.com/FeVITBddXk

— Chicago Bulls (@chicagobulls) April 24, 2015
40- Spurs Go Twining
This is exactly how it sounds: Combining tweets with singing. And yes, it's utterly brilliant.
Get pumped up for tonight's game with a hilarious edition of #Twinging featuring tweets from Tuesday. #GoSpursGo https://t.co/eckQ6g4pEV

— San Antonio Spurs (@spurs) April 30, 2015
41- LA Clippers Start With a Perfect Picture
Sometimes no caption is needed. This is a perfect example of that.
42- Raptors GIF, Literally
This is a good example of using a pop culture GIF that's on brand. If anyone can get away with a GIF of running dinosaurs, it's the Raptors. Fans loved it too.
#Raptors jump out to a 12-2 lead early. Current pace… #RTZ #WeTheNorth pic.twitter.com/cUoQhFLgUa

— Toronto Raptors (@Raptors) April 22, 2015
43- LA Clippers Share a Great Moment
It's so important for social media managers to be the eyes and ears of their fans. This picture from the LA Clippers is a great example of taking your fans behind-the-scenes for more intimate moments. A strong piece of content!
44- Pelicans Handle a Loss Through Sportsmanship
Handling a loss is no easy feat, but this is a good example of how to handle one. Show sportsmanship!
Solid series, @warriors. Good luck the rest of the way!

— New Orleans Pelicans (@PelicansNBA) April 26, 2015
45- Warriors Snapchat Scavenger Hunt
In the days leading up to the Warriors' first home playoff game, the team gave away playoff tickets and prizes on Snapchat through a scavenger hunt. This is a great way to engage with fans on the platform.
Today's Playoff Ticket Scavenger Hunt has been unveiled! You may want to follow us on @Snapchat…just sayin' pic.twitter.com/DK9rLvC24b

— Golden St. Warriors (@warriors) April 16, 2015
46- Trail Blazers Going up, on a Tuesday
Everyone likes good lyrics in their life. When the moment is right, don't be afraid to bust them out (or a rhyme).
47- Raptors Leverage Facebook Photo Albums
After every game, the Raptors shared a photo album of action shots. This is a great way to recap the game and give fans content to consume. Don't forget to leverage Facebook albums when you have a broad story to tell!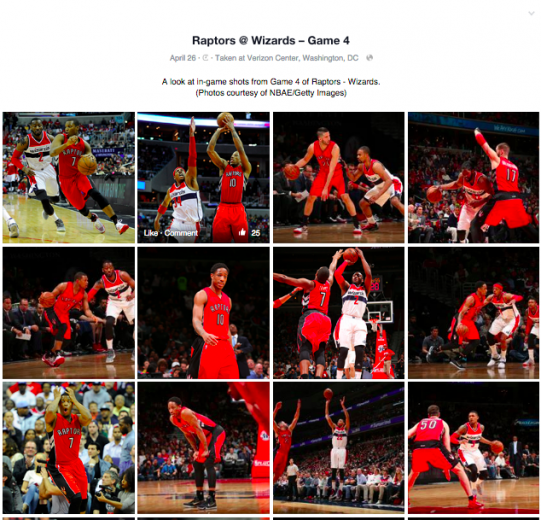 48- Bucks Follow Up a Big Win Accordingly
Timing is everything. When the Bucks beat the Bulls in by a buzzer shot from Bayless, they immediately posted two videos on Facebook. The first was a raw video view of the bench as the team ran to the court and the second was a clip of the game-winning shot.. The quick turnaround on this videos was key for the Bucks— tapping into fans' emotions while they are high.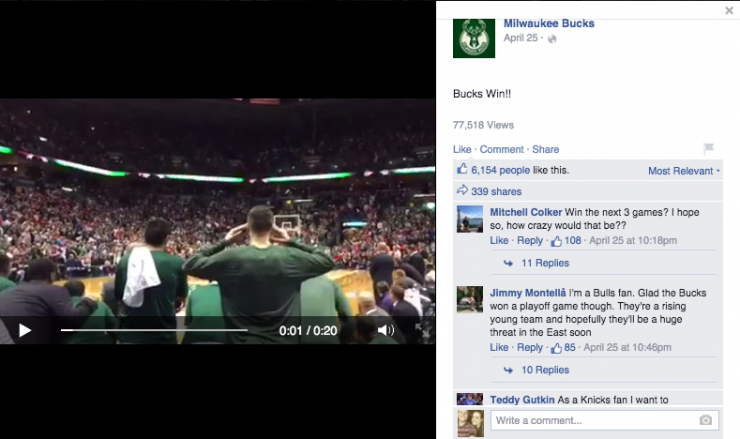 49- Celtics Give Due to Their Fans
Fans are the heartbeat of your community. It's important to show them thanks, especially as the season comes to an end. This graphic from the Celtics is a great example of how to do so.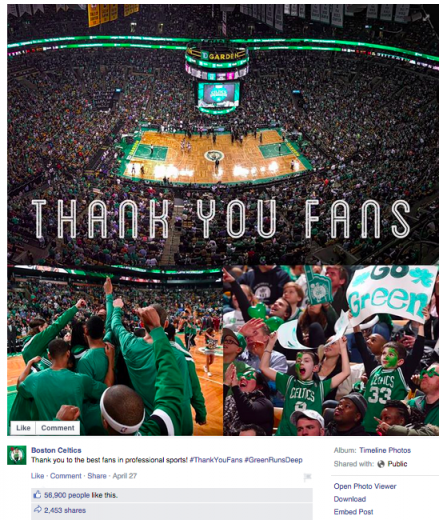 50- Raptors Photo Gets a Treatment
The unique color treatment on this Instagram post made the content stand out. The picture has one of the higher engagement rates in recent weeks. It's a great reminder that it's important to mix things up.
---
What moments stand out to you from Round 1 of the NBA Playoffs? Be sure to share your thoughts below!
Thanks for reading!