The MLB season has kicked into gear, which means lots of games, excitement and #smsports inspiration! The start to the MLB season has not disappointed from a social perspective either. From the #CapsOn campaign to strong content creation, here are five highlights and lessons as the season kicks into gear:
1. Keep UGC Simple + Sweet
To celebrate baseball being back, the MLB launched a UGC campaigned called #CapsOn. On April 4, the MLB asked all fans to wear their caps for Opening Day.
MLB's push around this was really strong. They had a Snapchat filter and a custom emoji on Twitter, teams pushed content out and partners participated. It worked as the hashtag trended on and off all day. There are two main reasons this UGC push worked.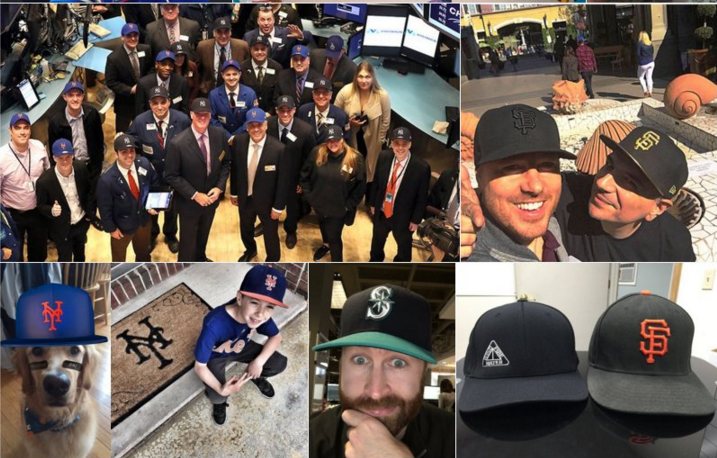 As we try this #TribeOpener again, put your #CapsOn — Cookie did on our Snapchat!

👻: Indians pic.twitter.com/uT0nRmEG4n

— Cleveland Indians (@Indians) April 5, 2016
Put your #CapsOn. It's Opening Day. Official @MLB @NewEraCap On-Field Hats available in stores.https://t.co/7KdF2aTTbG

— Foot Locker (@footlocker) April 4, 2016
Get your #CapsOn, #Phillies fans! #OpeningDayhttps://t.co/9ZcsBRj3P3

— Phillies (@Phillies) April 4, 2016
First, the CTA was extremely simple. The hashtag alone explained the concept and the point of entry to join the conversation was low. After all, any good baseball fan has a favorite cap. We only have so much time to catch a consumer's attention; if they have to take the time to figure out what the ask is, then they're just going to move along.
Second, MLB was aggressive in their push. If you want to launch a successful UGC campaign, you have to have a strong integrated communication plan. Don't rely on your own communication. Empower your advocates, think about channels where you can cross promote and come out swinging.
2. Show Thanks
Before Opening Day, Brewers players surprised fans randomly by leaving tickets and notes on their car. The Brewers did a few teases about this via social media, but left it extremely simple. Why? Because the Brewers didn't have to do a strong campaign around all the good they were doing. They earned social play without having to ask for it.
@Jimmy_J_Nelson @Brewers We got one! We thought it was a prank lol! Hubby and I needed a date night! Thank you!!! pic.twitter.com/STLcgvErap

— Katie Lehfeldt (@spicegirl410) April 3, 2016
Came back from disc golf to this on my windshield…thanks @coreyknebel29 ! pic.twitter.com/SPTPvCeMcF

— KanyeWestAllis (@MkeBuck) April 3, 2016
You made my grandpa's day! @Sgennett2 thanks!! pic.twitter.com/shgY5f72Sv

— Rachael Blair (@rachael_blairr9) April 3, 2016
When you focus on thanking your fans and making them feel special, they will share for you. You don't have to beg, ask or tweet about it. All too often in social we focus on internal our own channels and/or making it all about the quick ROI. Take a step back and focus on your fans.
Building community and thanking fans does not build an army quickly, but one by one you'll have a dedicated core group that will share and go to bat for you. Free tickets in this fashion are obviously a great way to go, but even something as simple as a genuine thankful reply can go a long way. Get back to thanking your fans!
3. Make It Consumable
All too often in sports we throw too much information at fans. Things move too quickly online to throw an entire stats book at our audience. Instead of information dumping, work on making content easy to consume. Here are two great examples from the Braves and Dodgers:
RECAP: Kershaw goes 8 innings as #Dodgers overcome homers to beat Giants, 3-2, in 10.

🔗: https://t.co/rjswOGNHBF pic.twitter.com/0HCaMNjBlr

— Los Angeles Dodgers (@Dodgers) April 10, 2016
John Gant. #BravesAreBack pic.twitter.com/6R29jAzUzb

— Atlanta Braves (@Braves) April 4, 2016
A.J. Pierzynski. #BravesAreBack pic.twitter.com/ztvYFEQ6Cy

— Atlanta Braves (@Braves) April 4, 2016
What a way to start, @ClaytonKersh22. #OpeningDay pic.twitter.com/Sx9iP1mjo9

— Los Angeles Dodgers (@Dodgers) April 5, 2016
When you work in social media, it's important to take a step back and understand the most important information you want the consumer to take away. You aren't going to be able to cram everything in, so don't even try it. Instead, focus on the storylines that matter and make your content consumable.
4. Provide Unique Perspectives
If you work in social media and sports, part of your job is to be the eyes and ears of your fans. Don't just spit out information and stats. Instead, focus on bringing your fans closer to the game and team through content and storytelling.
The Rockies have been doing a great job of providing unique camera angles on their content that brings fans closer to the action. While simple in execution, it shows that access and unique perspective can go a long way.
You've seen #OpeningDay intros before, but never like this!

Enjoy this cool perspective.https://t.co/DveAhpB8lu

— Colorado Rockies (@Rockies) April 5, 2016
Ready to do work 💪 pic.twitter.com/phiBTnZ9sP

— Colorado Rockies (@Rockies) April 6, 2016
5. Pre-Plan The Content You Can
And finally, I've talked about this a lot, but plan for the content you can. Although you can't plan for all the outcomes in sports, you can anticipate. Create templates and pre-planned content that you can use at certain moments. It will help make your game coverage that much stronger. Below are some highlights of pre-planned content from GIFS to images from teams:
That's a final! #Nats top the #Braves, 4-3, in 10 innings for the #OpeningDay W! pic.twitter.com/SKWzp5Hhy9

— Washington Nationals (@Nationals) April 4, 2016
Making his #SFGiants debut, please welcome @JohnnyCueto #HeresJohnny pic.twitter.com/DncrGylQ08

— San Francisco Giants (@SFGiants) April 6, 2016
#Tigers #OpeningDay lineup: pic.twitter.com/kbxFWFpk13

— Detroit Tigers (@tigers) April 5, 2016
.@JLester34 makes his season debut tonight against the #Angels! https://t.co/gVqEPEVJnz #LetsGo pic.twitter.com/yCmMJ495E2

— Chicago Cubs (@Cubs) April 5, 2016
Kenta Maeda hit a home run, you guys. #LetsGoDodgers pic.twitter.com/3zHY93SHCm

— Los Angeles Dodgers (@Dodgers) April 7, 2016
Here's the line on Nicasio tonight. pic.twitter.com/ICQibIIXmC

— Pittsburgh Pirates (@Pirates) April 7, 2016
.@stras37 =record holder! Congrats to Stephen Strasburg, new owner of the #Nats record(2005-pres)for career Ks (904) pic.twitter.com/0J9eVhe3UD

— Washington Nationals (@Nationals) April 6, 2016
RECAP: Chris Carter homers, drives in 2 as #Brewers get first win of the year. https://t.co/WoszYUScAN #MILvsSF pic.twitter.com/4cXN2bxVff

— Milwaukee Brewers (@Brewers) April 6, 2016
The first #Royals home run of 2016 comes off the bat of … MOOOOSE! pic.twitter.com/i2kmABihHC

— Kansas City Royals (@Royals) April 10, 2016
---
What stood out to you about the start of the MLB season? Share your thoughts below!
Thanks for reading.