Let's talk about one of the biggest challenges in social: Playing gatekeeper to what goes on the platforms.

In the early days of the channels, social media was thought of this to place to "put up everything". Oh, we don't have a communication or marketing plan for x initiative? No worries! We'll just throw it on social. Quickly the platforms became an answer for people in organizations to check a box whether it moved the needle.

As social media has matured and platforms have evolved, it's become clear that social media is not meant to be a dumping ground for "stuff". Everything a team, league and brand posts should add up to the larger picture. Even though it's "easy" to upload a piece of content and hit send, doesn't mean it belongs on social media. Content needs to add value, entertain or inform in any interesting way — otherwise, people will unfollow and algorithms will deprioritize content. Essentially, using social media to simply check a box ends up cannibalizing your own reach.

As the noise continues to grow online and consumers turn off more and more, we have to be thoughtful in how we approach things.

This means that not everything belongs on the platforms and that's okay. Easier said than done though, right?
If you work in digital, your job supports teams across the organization from marketing to community and sponsorship. It should 100 percent be a priority to collaborate and find solutions with partners. But, that doesn't mean that you should not protect the platforms and audience you've built.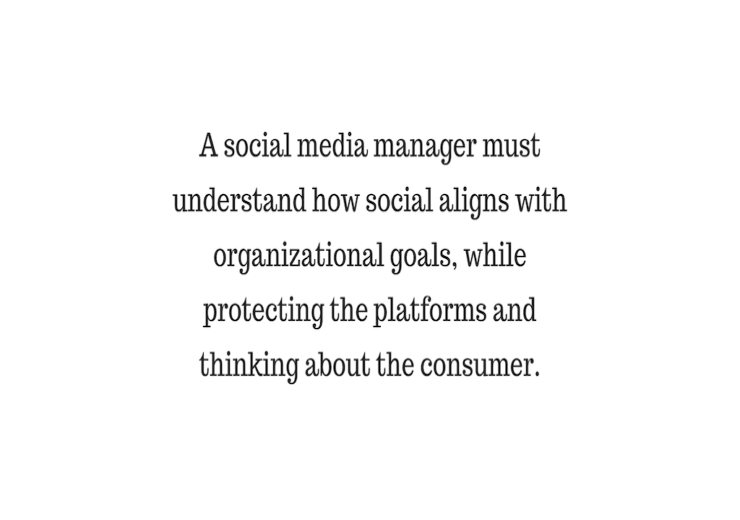 So, how do you protect what's been built online while still building bridges within an organization? Here are some tips I've learned about the art of saying no, finding solutions and working with internal (and even external) partners:

Put the strategy to paper.
Yes, I realize I'm a broken record here but anyone that works in digital should be putting their strategy to paper. When you put things to paper, people understand the vision and rally around it. If executing the vision requires cross-functional support (which most likely it does) it does not leave any type of guessing game. It makes sure everyone from leadership to the team executing are aligned.
Additionally, if you put your strategy to paper and get buy-in from the top, it helps you push back when things don't make sense. It lessens fire drills. Helps drive projects forward. And, allows you to say no when needed (but not just for the sake of it) because you have a reason for being. Put your strategy to paper.

Get buy-in from leadership.
Once you have the foundation of your strategy, it's imperative to get buy-in from leadership. First, this will make sure that the work is truly tied back to what matters for the organization. And second, getting buy-in from leadership will ensure you have others who will advocate for the work and have your back when you have to pushback. A good management team will also be honest when you're pushing back just for the sake of it.

Find those people in your leadership corner who will be champions for the strategy and vision. It matters a lot.

Evangelize & education.
After you have your strategy to paper and buy-in from leadership, the next step is to evangelize and educate on the strategy. Every potential partner internal and external should be briefed on the strategy for the year. They should walk away understanding what the focus is, why that's the focus and how their work potentially fits into the bigger picture.

Evangelizing and educating is one of the most important things a digital team can do within an organization. It's hard to push back on things if people feel like there isn't a reason for it. But, when you are able to walk partners through the big picture, they'll have a better understanding of what fits and what doesn't. It gives your work a reason for being and allows people to understand the "why" behind the no. That's important.

Make sure you also leave your partners with a takeaway, whether that's the full deck and presentation or a one-sheeter they can reference like the example below.

Move people away from the channels.
One of the biggest challenges I see with social media is that it's become a catchall for people. Instead of taking a step back and figuring out solutions, people immediately start with the platforms.

Everyone that works in marketing within your organization should help push against this. Good work does not happen by starting with the platforms. Every marketing and communications project should start with the challenge, not with the tweet. It's important to nail the idea, then tackle the execution and tactics.

Channels are a vehicle to distribute and not the answer to everything. Make sure everyone internally is moving people away from starting with the platforms.

Implement a process.
One thing that is often lacking within organizations is a more formal process to get something up on social. You know the drill. Too often people come to the team the day of saying "we need this up on Twitter now".

To fight constant fire drills and make sure that everything is mapping back to the larger picture, implement a requesting process. Think of it as a brief for social where internal partners must fill out their goals, what they are looking to do and how it fits into the larger strategy outlined for digital.

Implementing a process like this will help internal partners give thought to the why and hopefully make them think twice before requesting something to check a box. It also gives your team the time to think through solutions other than "posting this now".

Find solutions.
As mentioned, if you work in social your job touches multiple departments within an organization. Your job is not to say no for the sake of saying no, and as a result, you should work hard to find solutions for partners.

Sometimes, this simply means approaching work differently. Do not make assumptions that internal partners know all of the digital tools we have at our disposal. It's your job to find creative solves and make sure it aligns with the larger strategy.

For example, if the sales team is constantly coming to you to post organically about ticket sales but you know that does not move the needle, then propose a paid strategy. If your community relations team is constantly asking you to post a picture that gives no context or emotion, then talk about approaching community events through a new creative lens (video storytelling). Find solutions.

There will be times when simply no is the answer. But no should never be your first instinct. Make sure you do your due diligence to find the solutions for partners and when you have to push back do so by articulating the why.


Show the results.
Numbers and results are your friends, especially for building a case on why the team should approach things a certain way. As you look to get buy-in across the organization on the strategy, make sure you educate and show what is working.

At one organization I was with, we used to do a weekly email called "7.5". Each week we highlighted "7.5" things the team and senior executives needed to know about our digital channels. This included big wins, lessons learned and industry updates. The extra ".5" was always something more lighthearted and fun. Sure, the email highlighted the success of the team, but it was also informational, educational and fun. And, most importantly, showed how the team was helping to move the needle for the company. It wasn't boastful, but educational, and made people more invested and interested in the work.

The weekly email is a very small example of how you can help advocate and educate others about the work of the team. Every organization responds to information differently, so find the best medium to bring the work to life. But remember, it's not about boasting as much as it is educating and showing how the work back to organizational goals.


Playing gatekeeper to what goes on the platforms is not an easy job. It's important to build bridges with the organization while also protecting the audience you've built. As a result, it's important to lay the foundation of what digital means for your organization and how internal partners can play a role in the larger vision.
Don't say no for the sake of saying no. Do the hard work to put your strategy to paper, get buy-in, evangelize the work, implement a process, find solutions and show the results. This is how you build advocates with an organization and get buy-in for the larger picture. It's not easy, but if you can do this, it will be a huge win.
Like what you read? Please share!
1