There's a philosophical debate among those who work in social. And, it's a debate that's fiercely divided. To pop culture GIF or not?

GIFS, humor and memes have taken over the internet. Everywhere you look there's a cat meme or GIF from The Office that's already been used a million times. People use them. Brands use them. Teams use them. You get the point … everyone uses them.  And, it's time to pause and ask a serious question. Should we be leaning so much into content and moments that are not our own?
I understand the case for teams or brands to use pop culture GIFS and memes. They are funny, relatable and often engaging. But every time I put on my brand hat I go back this: They aren't ownable or related to most brands in any way.
 
And because I firmly believe in "wearing the brand hat" (yes, sometimes too much), I'm not a huge fan of leaning heavily into pop culture GIFS and memes. Here's why: 

Brand > winning the internet.
If you work in social, your job isn't just to "win the internet". Your job is to bring the brand to life AND capture the attention of the internet. Literally, any brand can share a pop culture GIF and generate engagement.  It's our jobs to figure out how we can engage fans in a way that's relevant AND right for our brand. 
It's unoriginal.
In a similar vein, a brand isn't built by joining a sea of sameness. Great brands are built through a unique value proposition, a sharp point and original thinking.  The brands that win are original, authentic and true to their core. They deliver content that is fresh, new & something only they can own.

Pop culture memes and GIFS aren't unique; they're accessible for all to use. As @CodySharrett eloquently put it, "they are the antithesis of creativity". Teams and brands, be original. 
Opportunity lost.
If you're promoting Michael Scott GIFS then you are most likely losing an opportunity to promote a player or the brand. 
Social media is the front door to brands today. We should do everything we can to leverage moments to elevate it (the brand or our players). Why waste an opportunity to promote your team and brand with something that literally anyone has access to, like a pop culture meme?


Alienates your audience.
Pop culture GIFS/memes can alienate your audience. They also lend themselves to personal biases (as we are more likely to share what we think is funny and clever). If you didn't grow up in the 90s or aren't a Stars Wars fan, then you won't care about that content even if it's from your favorite team. It's all relative.
You don't know for sure if your fans relate to Seinfeld, but you DO know that they relate to your team. Why push out content that is unoriginal and has nothing to do with your team when you can invest energy in building your own content and unique voice?

So, what's the solution? How can teams be relatable on the internet while still putting their brand first?

Always remember the big picture.
Humor, GIFS and memes that are relevant to the brand can be a great way to build a relationship with fans. There's a place for it, but just remember, it's part of a much larger picture. Our success is not defined by one or two tweets; it's the totality of everything. At the end of the day, it's our job to drive back to business goals. 

Put the brand strategy to paper.
To figure out where humor, GIFS and memes fit into the overall picture, but your brand strategy to paper. Too often social media is a wild, wild west and the brand voice does not actually reflect the organization. If your brand voice on social doesn't match what you would put on a billboard, it might be time to rethink your strategy.
A strong brand strategy will set your team apart from the rest.  And, it helps combat the wild, wild, west. It becomes your North Star for how your brand should come to life through voice, tone, aesthetics and the stories you tell. When you have defined what your brand is and isn't. Stick to what was defined. Make sure you focus on your own, unique thing. Humor, GIFS and memes can be a part of our presence but it's not the only thing.
Every team and league should put their brand strategy to paper. Define your values. Stat the goals. Understand what makes the brand unique. Know your consumer. Create a personae. Once the brand architecture is in place, that's your guiding light. All the work, whether it's social or a more traditional marketing channel, should ladder back up to it.

Think about the sweet spot.
Putting the brand strategy to paper helps teams understand what the right tone of voice is on social channels. And, once you know what your brand stands for, it's time for the fun work.
Social media is supposed to be fun. It does not need to be serious all the time. I'm not saying brands and teams shouldn't activate pop culture GIFS because they can't let loose a little bit. The problem is they are completely unoriginal and unrelated to most brands/teams.
It's our jobs to figure out how accounts can be relatable, funny, engaging (or whatever the tone is) while making sure the content is still relevant to the brand.  Great creative work is able to stay in a box while getting the tone and message across. It's the sweet spot.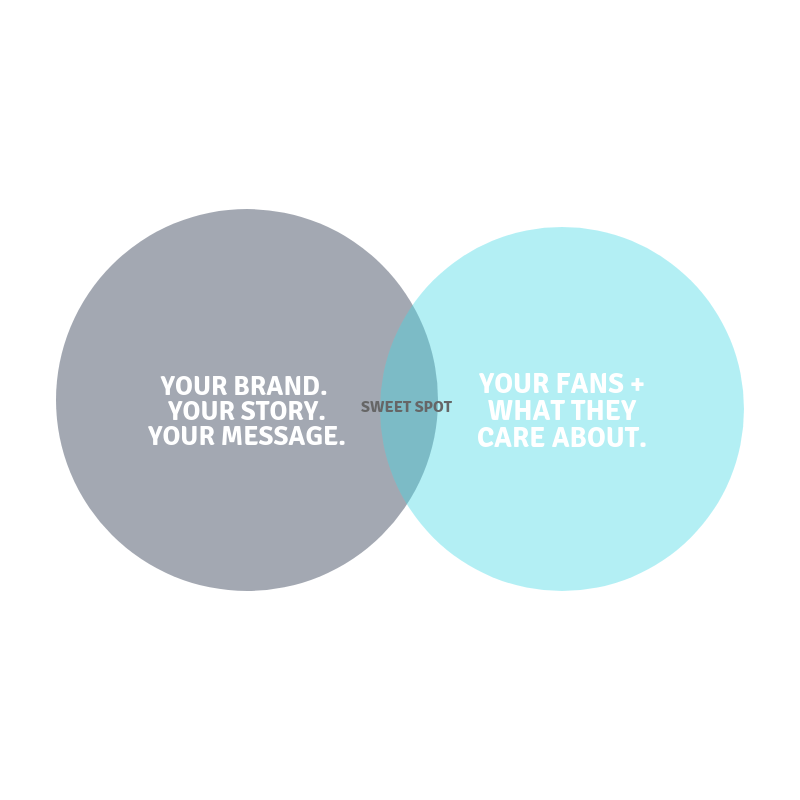 The best work connects all the dots between your brand, your fans and what's relatable. It's also about the right content, right context and right delivery.  Take the time to understand what this means for your brand/team.
Plan, plan, plan.
Teams and brands can be relatable, funny, quirky, intense and evoke all sorts of emotion while still being original. It simply takes planning. And, lots of it.

Let's take reaction GIFS. A lot of teams leverage pop culture GIFS in moments when they want to evoke a certain emotion. Well, you can still do that in a way that's ownable. When you're planning your content before each season, write down a list of all the emotions you might tap into. Think about your favorite pop culture/reaction GIFS. Storyboard out how you can bring those emotions to life in your own unique way.  Then, recruit players or content creators (if you are doing something like illustrations) to make them happen.

With planning and focus, you can create original content that reflects the brand and still very much resonates with fans. Put in the extra effort. It's worth it.
Let creators work their magic.  
Creating content that evokes an emotion or plays into a pop culture moment, while staying in the brand box, is hard. That's okay. It should be.
Put in the effort to plan ahead. Hire creative people and let them work their magic. You won't always hit a home run and you won't always be able to activate during every moment. But, the more the team flexes its creative muscles the easier it will be to find the sweet spot.


If you need some inspiration, here are some GIFS, pop culture moments and unique ideas that evoke emotion from teams and leagues:




When you work in sports, you have more access to content than most brands. There's no need to rely on others for content, even in humorous moments. Tap into existing content, leverage your designers and create epic GIFS, memes and content that not only resonate with your entire audience but also help build your own, unique team voice.

At the end of the day, creating relatable GIFS and moments that seep into pop culture is a creative exercise. It's a challenge that will be hard but also rewarding. The key is to connect the pulse of the internet with your brand. Remember, original content wins.
To Note: I understand that strategies are not a one-size-fits all. What works for one brand might not work for another. Expectations, leadership, brand voice and  vision are all extremely different.  This is especially true with humor and pop culture. There are no hard-fast rules. This is merely food for thought.
Like what you read? Please share!
2