Iowa State joined Snapchat in April of 2014. They wanted to reach a younger fan-base, particularly the college students on campus, and they felt like the platform was a great avenue to do so.
Their inclination was certainly right. Snapchat was the fastest growing messaging app in 2014, and the demographics skew young. In fact, a study found that 70 perfect of college students post there at least once a day. If one of your goals is to reach a younger demographic, Snapchat is definitely a platform you should take note of and consider.
Iowa State Athletics' Snapchat strategy has certainly paid off. They have seen tremendous growth and been able to reach students on campus:
So, what's their secret? They are thoughtful in how they approach the platform. They don't treat Snapchat like every other platform; they focus on good content and quirky/fun initiatives that are native to the platform.
"We try and provide engaging content, without being boring," said Becca McLaughlin, the Marketing Associate for Iowa State Athletics. "It is easy for an organization to get caught in a rut of just showing pre-game warm-ups or previewing an upcoming event by snapping a picture of a flyer. While we do show pre-game/in-game content we try and mix in other engagement like behind the scenes content, student-athlete takeovers, contest, etc."
What really stands out about the Cyclones' Snapchat presence is the creativity in how they leverage it. They don't just push content, but they engage their fans, cross-promote in unique ways and always mix things up. Here's just a small glimpse into some of their unique Snapchat initiatives:
Student-Athlete Takeovers
The Cyclones have handed their account over to student-athletes several times now for takeovers. The takeovers provide fans with a "day in the life" look at what it means to be an Iowa State student-athlete. I love the concept of takeovers on Snapchat more than any other platform; they are very native to the platform (how most users use it). And, it's a great piece of behind-the-scenes content.
#cyclONEnation Map
Iowa State wanted to track how many fans from across the country tuned in to watch Iowa State MBB away games and where the fans come from. In order to do this and grow their fan base on Snapchat, they created a campaign called#cyclONEnation Map where they ask fans to help them unlock the map by sending in a Snap from their location. The campaign is cross promoted heavily across Facebook, Twitter and Instagram.
Check these #Cyclones from our @Snapchat: CycloneATH! Help us unlock our #cyclONEnation map! #ISUvsKU pic.twitter.com/mbFZfydPvu

— Iowa State Athletics (@CycloneATH) February 3, 2015
Thanks to all of #cyclONEnation that followed along with us @Snapchat tonight! pic.twitter.com/IrHKMsQhLW

— Iowa State Athletics (@CycloneATH) March 8, 2015
In-Venue Promotion
The Cyclones don't just promote Snapchat across platforms; they also promote in-venue through the nifty "take a picture" trick. Cross promotion is key for success on any platform. This is smart:
.@TheMascotCy wants @cyclonealley to add CycloneATH on @Snapchat! #cyclONEnation pic.twitter.com/Y8JzeSiCsJ

— Iowa State Athletics (@CycloneATH) January 31, 2015
Hilton Filters
Snapchat now offers geofilters, which are special overlays for Snaps that can only be accessed in certain locations. To leverage, simply choose the geographic area you want your filter to be available in and upload an image asset (more info here). Iowa State Athletics has taken advantage of this feature offering geofilters in Hilton. These are a great way to leverage brand ambassadors and have others promote your team: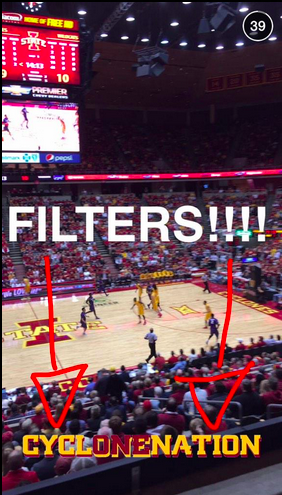 Doodle Contests
The Cyclones don't just push content on Snapchat, but they also encourage their fans to send them Snaps. One of the most creative initiatives from them are doodle contests where they ask their fans to Snap their best doodles around certain themes. This is a great way to engage fans, generate content and unleash creativity. Here's a look at two of the contests they've hosted:
Thumb Puppet Contest
Birthday Cake Contest
 Holidays
In addition to all of these great initiatives above, one of the keys to Iowa State's success is cross promotion.
"With Snapchat (and any other SM platform) in order to grow your following you must cross promote on other platforms, but do it in a creative way so what people will want to follow you on your other channels," said McLaughlin. "It's important to not give them too much, but just a 'taste' of what you have to offer like on Snapchat, that way they will be curious and go and follow you."
It's apparent that Iowa State has nailed the Snapchat thing. They have fun, engage with their fans and really push creative and quirky initiatives. If their presence inspires you to start ramping up your approach to Snapchat, McLaughlin has one more piece of advice.
"Like any of our other accounts you have to stay creative and on top of the latest trends," said McLaughlin. "I think it's also VERY important to listen to your fans and pay attention to what other successful brands are doing and then tweak it to fit your needs. Don't be afraid to fail, learn from both your successes and failures and build off of them equally."
All sound advice from McLaughlin. And, great execution on Snapchat from the Cyclones to serve as inspiration. Now take this advice and start snapping away!
---
A big thanks to Becca McLaughlin for taking the time to answer questions about Iowa State's approach to Snapchat. Be sure to give her a follow on Twitter: @beccajoy9
As always, thanks for reading!