Social media has infused creativity into everything teams and leagues do now. There's pressure to be at the top of your game with the battle for attention in a crowded space. Teams' content must stand out, whether it's for a national championship or pseudo-holiday.
This need for creativity was evident in the NBA's recent schedule release. Teams took to social to drive interest through strong content and off-the-wall ideas.
Below are a few of the highlights from the 2018 NBA schedule release. Whatever your brand's style, voice and tone, there is inspiration here:
Brooklyn Nets- Orchestrated Creative
The Brooklyn Nets schedule release the a well orchestrated schedule release. They had strong creative paired with a platform approach. They tapped into iconic parts of NYC to together a dynamic unveil across all three platforms. Here's a look at their creative and some of their execution: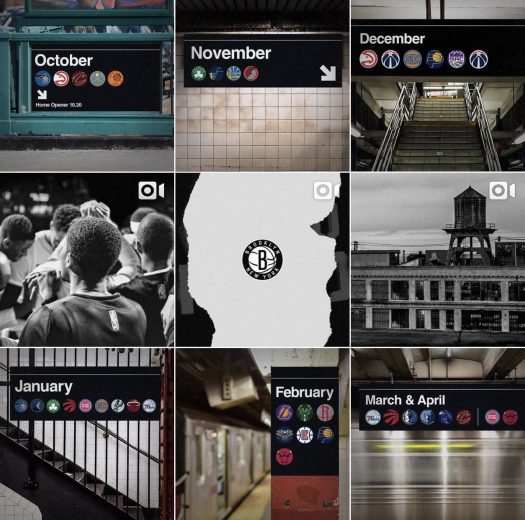 Home sweet home. This year's games in Brooklyn.

Full Schedule » https://t.co/buF0y0Gchq pic.twitter.com/ZuopJtLjTr

— Brooklyn Nets (@BrooklynNets) August 14, 2017
One of the strongest aspects of their unveil was that they took their concept and molded it to each platform. On Instagram, they unveiled pieces through a grid unveil. On Twitter, the photos turned into a GIF. On Facebook, they focused on their video piece.
Denver Nuggets- Nostalgia
Channeling some nostalgia, the Nuggets took to a classic video game to unveil their schedule. Of course, collecting all their opponents all the way. For a topic that could otherwise be dry, the Nuggets did a good job of putting a creative spin on it.
It's-a-here!

Let the countdown begin. #MileHighBasketball pic.twitter.com/VNLsboK1ZK

— Denver Nuggets (@nuggets) August 14, 2017
76ers- Driving People to .com
The Sixers created a fun, illustrative video that called out highlights from their schedule, then drove people to .com to see the full release.
If one of your goals is to drive people to your site, this is a good example of how to do so. You never want your account to feel like a push notification, so tread with caution. The @sixers' schedule content is engaging, so even if it doesn't include the entire schedule, it adds value for their fans.
The Sixers also get an extra +1 for the music on this video (so please, turn the sound on).
Sacramento Kings- Use of IG Carousel
The Instagram carousel feature offers a lot of opportunity to tell and unveil stories different. You no longer have to rely on one photo, but instead, can string content together for a more engaging experience. The Kings schedule unveil is an example of this.
Warriors- Win With Puppies
The Warriors unveiled their schedule with adorable puppies, taking on and conquering their opponents (in the form of chew toys, of course). It's a win, because who doesn't love puppies?
While this content play might be a bit left feel, a schedule release is a good opportunity to think outside-the-box and have some fun. This isn't mean to be a season-long marketing play. It's a one day push to capture your fan's attention and generate interest in tickets. Puppies will do that.
Start planning, #DubNation 🗓 🐶 pic.twitter.com/qYVxEByctO

— GoldenStateWarriors (@warriors) August 14, 2017
Raptors, Bucks & Trailblazers- Hype Videos
When all else fans in sports, you can also go the route of a good hype video. After all, fans love a combination of emotion and action. Below are a few examples that stood out from the Raptors, Bucks and Trailblazers.
THE SCHEDULE IS OUT!

We tip-off October 18 in Phoenix » https://t.co/mm46cAPXd9

Home highlights below. pic.twitter.com/QkpJujPFDs

— Trail Blazers (@trailblazers) August 14, 2017
It's HERE!!

The 2017-18 Schedule is at https://t.co/gvjFJNjzJe

SUBSCRIBE and get the schedule on your phone 👉 https://t.co/kxnxU8iwgg pic.twitter.com/0tamY4XrXe

— Milwaukee Bucks (@Bucks) August 14, 2017
Chicago Bulls- Infographic
The Chicago Bulls leveraged interesting facts in their schedule to generate interest, turning the information into fun and consumable infographics. The Instagram carousel is especially impressive.
OFFICIAL #Bulls 2017-18 regular season schedule: https://t.co/1prQxySTM6

👀 Some fun facts for this season 👇 pic.twitter.com/pHugSpq2Cc

— Chicago Bulls (@chicagobulls) August 14, 2017
What else stood out to you during the NBA schedule release? Share your thoughts below!
Like what you read? Please share!
0