Working in a league or conference office is different than working for a team. You aren't just rallying one passionate group of fans, but you are trying to rally an entire audience with different allegiances. How do you make people care when it's not about their team? It's not always an easy feat.
During the bowl season though, the Pac-12 Networks managed to do just this. They united college football rivals and foes through their #BackthePack campaign. The campaign encouraged the 12 schools and their fans to rally around their conference in the postseason. It tapped into the emotion of sports, harnessed pride and captured the encouraging words and positive sentiment fans had shared all season. It was one of my favorite post-season social media campaigns.
Through content creation, Twitter avatars, videos and more, the Pac-12 Networks helped to spark online chatter that was genuine in nature. The results were outstanding. From December to January, the #BackThePac hashtag was used more than 25,000 times. Impressive.
As I watched the campaign unfold during the postseason, I had three big takeaways:
Own your brand. Sometimes we make too many apologies and let negative sentiment get in the way. If you can't be proud of your brand, then how can you expect other people to get excited about it? The Pac-12 Networks rallied around their brand, made no apologies and never looked back.
Let others help carry the weight. Whether you are a team or league, you need to let others carry the weight of your story like the Pac-12 Networks did with their fans and teams. Look to celebrities, influencers, schools, fans, partners, etc. who can help spread the love. The great thing about social is that you don't have go at it alone!
Celebrate the fans that share. If you are running a campaign that asks fans to rally around something, be sure to celebrate/thank the ones that take action. This will encourage others to join the journey. Here's an example of how the Pac-12 Networks celebrated the fans that shared:
As the kids say, this. (h/t @mhowe22) #BackThePac pic.twitter.com/Sr5c3Dwhzi

— Pac-12 Networks (@Pac12Networks) January 13, 2015
These takeaways just touch the surface of the campaign. Thankfully Justin Karp, the Social Media Manager at the Pac-12 Networks, took the time to answer questions about the campaign. Below is his insight into the campaign, why it worked, lessons learned and more.  Hopefully you will be able to take away a thing or two:
Can you give us a general description of the #BackThePac campaign and what it was all about?
#BackThePac was a concerted social effort to rally conference-wide support around each of the eight teams that qualified for bowl games during the 2014 postseason. It was a way to show solidarity and support for each of those teams from across all of our 12 fan bases. In general, getting fans to support each other (especially rivals) is an uphill battle, but we found the way fans were getting behind each other inspiring, and in the social sphere, really organic in nature.
Gaining buy-in for the idea that teams other than your favorite elevates the prestige and recognition of the conference as a whole is tough, but the vast majority of people who participated really got into the idea. They recognized that quickly and jumped in with both feet.
What inspired the idea for the campaign?
In reality, the fans really were the inspiration. I feel like we just gave a name to an organic movement. As the season progressed and we moved closer to the Pac-12 Football Championship Game, we saw more and more comments on Facebook and Twitter to the tune of, "Great win, Bruins! From a Utes fan!" or "I'm a Wildcats fan but I was impressed by the Trojans today!"
Our head of digital content, Sam Silverstein, constantly challenges us to find ways to harness that fan energy and convert it into something special. We all know that the comment sections of websites and social posts can, on most occasions, descend into nastiness (our pages aren't an exception sometimes). But this natural progression into warm, positive support was really welcomed. So, the idea came along to harness that energy into something really fun for the bowl games.
The hashtag itself, of course, couldn't feel forced or clunky. Any successful social campaign has to feel organic to actually work. #BackThePac was catchy, it served a purpose and described itself.
So, about an hour after Oregon beat Arizona at the Pac-12 Football Championship Game in Santa Clara, we launched the tag on Facebook and Twitter with a simple post and a collage of the eight teams who we knew were bowl eligible and heading to the postseason. The response to this Facebook post specifically was out of this world. We knew from the start we had a winner: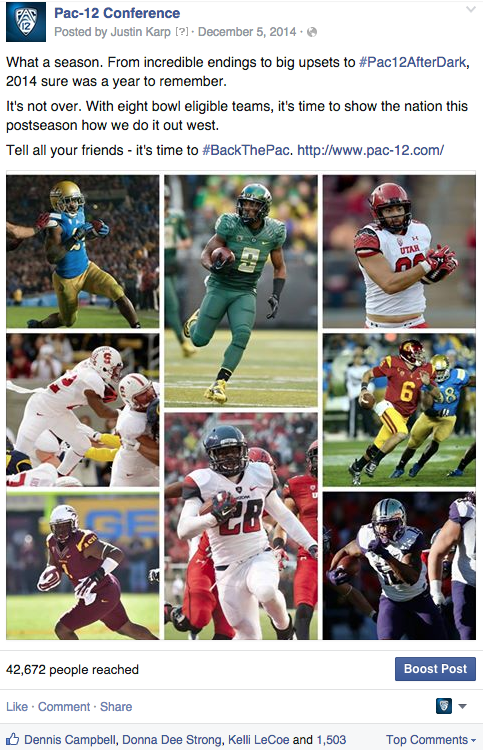 From there, we concentrated on this being a very fan-centric campaign. We'd encourage it through our own Facebook, Twitter and Instagram channels, but the volume of people using it on their own without coaxing from the brand was overwhelming.We knew that it was taking off when fans from all over the conference used the hashtag when Marcus Mariota won the Heisman Trophy, and again, when Utah dominated the Las Vegas Bowl. From there, it was off and rolling.
Can you talk about all the different social and digital elements you had for the campaign?
We were able to do some really special things that nudged the campaign along. And by nudged, I really mean that our fans and followers were the ones who carried this with their messages of support.
We had some fun creating graphics that people could share on all networks; before games, we'd post a simple photo of the team with #BackThePac on it. After games we'd post a final score graphic for everyone to share. Our team calls that "digitally rushing the field" when we post a final score and hundreds of fans scramble to retweet and share it.
A simple but successful tactic was simply retweeting fans during bowl games as they shared their #BackThePac energy. Amplifying their enthusiasm in turn spurred others to hop on the train as well.
Around the Mariota Heisman win, we used Storify to aggregate posts from our member schools and fans from across the conference to aggregate supportive #BackThePac tweets as well as ones tagged #MahaloMarcus, which was a wildly successful campaign launched by the Oregon Ducks.
We also had mascot videos that were a stroke of inspiration from our counterparts at the Conference, who really wanted to make sure to find a creative way for the schools to get involved once Oregon won the Rose Bowl. They provided the platform for our schools and their video teams – who had already been extremely active on their own social channels with #BackThePac without any coaxing from the Networks – to create those cool videos for us to post o Pac-12.com. The payoff was the video our digital team produced at AT&T Stadium where the Oregon cheerleaders helped The Duck open all the presents his fellow mascots sent him.
We created #BackThePac avatars for fans. This idea came after a brief conversation with some fellow Arizona State alums on Twitter who said they wished they had an even more visceral way to show their support for Oregon at the National Championship game. We figured there was no more consistent way to do so on social (especially Twitter) than by changing your avatar, so I popped all of our logos into a PhotoShop project and created them. We then asked our @Pac12Networks followers if they'd use such a thing, and we probably got about 50 replies in the first two minutes saying yes.
Have you snagged your #BackThePac avatar yet? Show your pride all day today. http://t.co/Q72kOzzpo3 pic.twitter.com/Xn2bffbSJr

— Pac-12 Networks (@Pac12Networks) January 12, 2015
The idea for our Oregon-themed #BackThePac t-shirts came from Laura Podolak, a senior assignment manager at Pac-12 Networks, for distribution in Dallas. We made a great feature about fans and notable Oregon alums receiving them at the Fan Fest and they became a great, unique souvenir of both their trip to the game and a campaign as a whole. On Twitter, we were able to have some fun with the shirts by having a virtual scavenger hunt for the shirts as well.
You out in Arlington tailgating? We're headed out with #BackThePac shirts! pic.twitter.com/Lnh5Orajee

— Pac-12 Networks (@Pac12Networks) January 12, 2015
Bill Walton approved. #BackThePac pic.twitter.com/KYYRmfGUZY

— Pac-12 Networks (@Pac12Networks) January 13, 2015
The final and probably most impactful thing we did was to feature our favorite #BackThePac tweets in visual form throughout the National Championship game. We were inspired by what the Carolina Panthers did during their NFC Wild Card game against Arizona. Those graphics were among the most engaging pieces of content we produced all day – garnering an average of nearly 100 retweets and 150 favorites per post. The imagery plus the positive message was a big win.
RT if you agree with @GarciaJason. 18 minutes away. It's officially time to get #BackThePac trending nationwide. pic.twitter.com/wJIRolDCPq

— Pac-12 Networks (@Pac12Networks) January 13, 2015
This is the best sentiment of the night, @CoachBurton_PSU. Tweet with #BackThePac and we could feature you too. pic.twitter.com/egPC58547x

— Pac-12 Networks (@Pac12Networks) January 12, 2015
What were the keys to success with this campaign? What made it so special that fans wanted to rally around it?
At its root, I think fans of our Pac-12 teams really want the recognition they all felt their teams deserved. At the end of bowl season, the Pac-12 ended up having a 6-2 record (before Oregon's National Championship loss), which was the best record of any Power 5 conference in the postseason.
From the start, the fans of each of these teams really wanted the rest of the nation to take notice of just how great the conference has been as a whole. We're obviously all aware of what time our games are schedule for and how late they go in other parts of the country. Piggybacking on the wild success and adoption of #Pac12AfterDark, which advocated for everyone to stay up past their bedtimes and see the wildness and excitement that came from our games this season, both we and our fans wanted to make sure the entire nation was paying attention to the Pac-12.
I think that's what really brought fans together. We know that fans in general are fans of their teams and not necessarily a conference. But when it comes to prestige and reputation, I think the majority of our fans recognize that the strength of the Pac-12 as a whole elevates the attention paid to the West Coast and the respect it garners as one of the best conferences in America. Once that was recognized as the true driver of this campaign, fans jumped on in droves.
So, in short, the real key to success of this campaign was the enthusiasm of our fans and the passion they showed for not only their own team but for their fellow fans as well.
I saw you tweeted something about how pride trumps trolls any day. I love this, because I think sometimes we let the negative dictate too much of what we do. Can you talk about that and the lessons learned?
I think that we forget that for many, social is an echo chamber for both brands AND individuals. You're only successful and making an impact in the social sphere if you're talking WITH your audience and not at them.#BackThePac was a success because it created an environment where both we were having great conversations and exchanged with fans, and then allowing them to have them with each other on both Twitter and Facebook.
Inherently, there are going to be fans who don't want to participate. They're going to say that the idea is "stupid" and that they'll "never root for any other team than theirs." And that's fine! No one was forced to participate, and everyone's allowed to have their opinion. We were far busier engaging with the 90 percent of fans who were really invested in the idea rather than then 10 percent who didn't like it.
There's a line from a column by Chicago Tribune writer named Mary Schmich that's affectionately dubbed "Wear Sunscreen" that registers with me, especially in this instance. (That column, of course, was adapted into Baz Luhrmann's famous spoken word "Everybody's Free To Wear Sunscreen" song.) One line says "Remember compliments you receive. Forget the insults. If you succeed in doing this, tell me how." In the case of #BackThePac, it was important to recognize that some people didn't like it, but it was much more important to enable and engage the people who REALLY enjoyed it.
Are there any special moments from the campaign that stand out to you?
There were so many. The mascot videos stand out. I loved how quickly the schools got behind each other, especially once Oregon got to Arlington. Stanford tweeting the Pac-12's bowl record along with #BackThePac after every bowl victory was special. Arizona's #Devils4Ducks piggyback campaign on the day of the National Championship was excellent.
Tonight we are #Devils4Ducks. #BackThePac pic.twitter.com/WQEJIk0o4H

— Sun Devil Athletics (@TheSunDevils) January 13, 2015
The moments where we realized that the hashtag was trending in so many of our home markets – Portland, Los Angeles, Phoenix, Tucson, Salt Lake City – was really amazing. It was an affirmation – not of our work, but of how proud our fans were of each other.
I think just the way fans embraced it so quickly was the special moment as a whole. I don't think any of us, especially me, expected it to take off like this.
And finally, any plans in the future for #BackthePac?
You never know. It was fun while it lasted for bowl season, and who knows if it'll make a comeback.
---
A big thanks to Justin Karp for taking the time to offer some insight into the #BackThePac campaign. Be sure to give him a follow on Twitter @jskarp along with the @Pac12Networks.
In addition, if you want to read more about the campaign, checkout this writeup from Justin here.
Thanks for reading!
Like what you read? Please share!
0