With the NFL preseason in full swing, we're getting a look at what we will see from teams on social media this season. It looks like it's going to be a strong year in NFL social. From slick visual identities to mesmerizing content, we've already seen some strong plays. Below are a few highlights from teams early on as the NFL season kicks off:
Beautiful photography.
There's no such thing as a great social presence without great content. A huge key to good content is top-notch photography. The @MiamiDolphins social media presence is proof of this. Their content is eye catching, consistent and a great refection of their brand. All teams can learn from their cohesive look. Work hand in hand with your photography team to define a look and feel and let the photos drive your storytelling.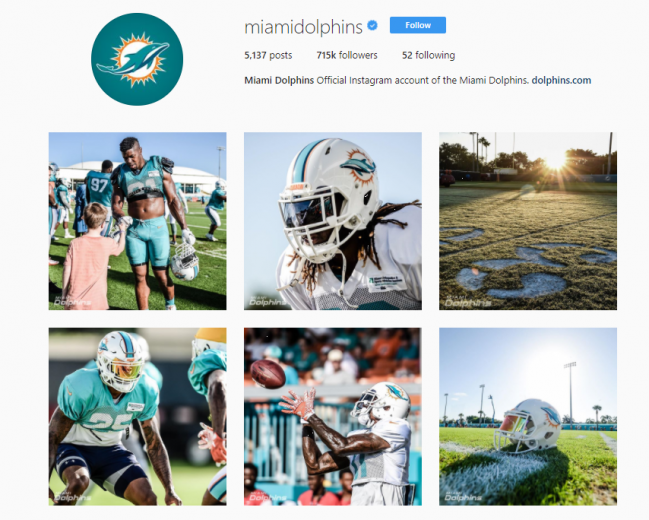 Mesmerizing content.
In the battle for attention, it's important to diversity your content. Coverage should include everything from stills to videos to captivating GIFS. Many teams have leveraged interesting, dynamic content in the pre-season so far. Below are a few that caught my eye:
— Los Angeles Rams (@RamsNFL) August 12, 2017
Rain or shine, day or night, @DirtySix is all business. pic.twitter.com/xH2NKQ2eXZ

— Atlanta Falcons (@AtlantaFalcons) August 7, 2017
Beasting and feasting. pic.twitter.com/uooft2tHpB

— OAKLAND RAIDERS (@RAIDERS) August 7, 2017
Cool Brees 🐐 #SaintsCamp pic.twitter.com/AxSJuv07qR

— New Orleans Saints (@Saints) July 29, 2017
30 days until it counts 🤘 pic.twitter.com/PIacVNH8v6

— Los Angeles Rams (@RamsNFL) August 12, 2017
Tip: The Vikings, Falcons and Saints used an app called Plotograph. It's simple to use and definitely worth checking out.
Communicating in six seconds.
The latest craze in advertising is six second ads. It doesn't mean that good long form is dead, but all teams should think about how to create video content for goldfish attention spans.
Telling a story in six seconds is a completely different creative challenge. You need a strong understanding of your point to be able to communicate it in six seconds. A strong storyboard and good execution are key.
Need some inspiration on what a strong six second video looks like? Here's a great example from the @jaguars:
The regular season is close. #WinToday pic.twitter.com/XWnMstbzpw

— Jacksonville Jaguars (@Jaguars) August 6, 2017
Crisp and clean branding.
It's important for teams to establish visual identities. A good visual identify helps your content stand out from the crowd and ties everything back to the brand. When fans scroll through their feeds, they should be able to identify a team's piece of content without even seeing the name. The @Vikings branding for their training camp is a great example of what crisp and clean branding looks like:
The #Vikings first unofficial depth chart of the season has been released.

📰: https://t.co/ssvDV37Vnu pic.twitter.com/tMjoQFF24H

— Minnesota Vikings (@Vikings) August 7, 2017
Good, clean fun.
There's a tendency for teams and brands to resort to snark and sass on social. As marketers though, we shouldn't resort to that tactic unless the organization/brand has aligned on that voice. It's easy to grab attention and retweets this way, but the true test of any marketer is to grab attention in a way that's right for the brand.
The good news is that a team's voice can come to life in many different ways. Yes, social media is meant to be more human. Yes, teams should have fun on social. You can break through the clutter and have fun without jeopardizing the brand.
Establishing personality is not complicated either. Take a look around you and see how the players interact. There are moments all throughout sport where personality shines. Capture that content. Bring to life those team moments. Below are two examples of personality shining through with content and copy without resorting to snark:
RB Swagger 👌 pic.twitter.com/hLHMHWtECF

— Carolina Panthers (@Panthers) August 13, 2017
The feeling when you hit the field and have another opportunity to get better: pic.twitter.com/OonW4Wc2AO

— Atlanta Falcons (@AtlantaFalcons) August 13, 2017

What strong plays have you seen from NFL teams in the pre-season? Share your thoughts below!
Like what you read? Please share!
0