The March Madness social media coverage from teams, leagues, conferences and broadcast partners has been stellar. From sharp graphics to good video content, the coverage has shined brighter than past years. The social media + sports industry is stepping it up!
As we head into the Final Four, here are 25 memorable social media moments from the tournament so far from teams, leagues and brands (not focused on coaches or coaches). It's easy to see how the second screen experience during they tournament has been fun to watch. Enjoy!
1- Xavier busted out an appropriate playlist.
Spotify is a great content tool when used strategically and sparingly (don't abuse it, make a splash). This example from Xavier is how it should be done.
Tonight's playlist. #XMarchesOn pic.twitter.com/fdfsFfI0tv

— Xavier Musketeers (@XUAthletics) March 26, 2015
2- March Madness made slideshows cool.
Slideshows aren't used very often from teams and leagues, but this promo from @MarchMadness proves they can be done right. The key is to keep them short and sweet, focus on the cadence and pair it with powerful copy.
The looping works really well with the slideshow, so Vine is a great platform choice (cross-promoted on Twitter of course).
3- Warriors jumped into the conversation, appropriately.
Jumping into trending conversations is powerful when done right. And, this tweet from the @Warriors is smart, appropriate and on brand. Win, win and win.
Dubs on the big stage. #MarchMadness #ThrowbackThursday pic.twitter.com/nOF4KygD2I

— Golden St. Warriors (@warriors) March 26, 2015
4- Arizona kept it simple.
This tweet proves simplicity is entirely underrated. Across all platforms.
Soon. pic.twitter.com/pbS6KEf044

— Arizona Basketball (@APlayersProgram) March 26, 2015
5- March Madness called Twitter out.
@MarchMadness proves it's okay to let your fans feel the burn. All in good fun, of course.
Learn how to spell Sam Dekker's name, America. Dude's got 15 at the half. #UNCvsWIS #Sweet16 pic.twitter.com/PVTgZSKrUB

— NCAA March Madness (@marchmadness) March 27, 2015
5- @GSUPanthers had a fun with the infamous chair.
A little humor can go a long way. This is social media after all, so keep it fun.
We have an improved (or at least NCAA-approved) Ron Hunter's chair on court today. #battletested #MarchMadness pic.twitter.com/8qYX9Pu6rd

— GSU Panthers (@GSUPanthers) March 21, 2015
6- Kentucky played off their storyline.
This tweet and graphic is simple, but it plays off Kentucky's storyline and the sentiment of their fans. Because of that, it's an extremely shareable graphic. Anytime you craft content, think about how it ties in with your team's storyline.
We want more. pic.twitter.com/vw8iPAX5Te

— Kentucky Basketball (@KentuckyMBB) March 27, 2015
7- So many graphics shined.
This isn't just a one moment thing. Day after day graphics were turned out that shined through all the noise. Here are just a few of the highlights (and let me stress, just a few):
8- Oklahoma handled their loss in a powerful, thoughtful way.
How to handle a loss is one of the great debates in social media + sports. It's certainly not an easy thing to do, but this is a great example of how to respond emotionally and look towards the future.
#noticeTAKEN pic.twitter.com/Fr2hYSVXc3

— Oklahoma Basketball (@OU_MBBall) March 28, 2015
9- Wisconsin took fans inside the celebration.
In social media and sports, it's important to be the eyes and ears of your fans. This video from Wisconsin is a great example of how to take fans along for the journey. This is raw, unedited and full of emotional; it's exactly the type of content that resonates with people.
FINAL! FOUR! #OnWisconsin #Badgers pic.twitter.com/8coLIj6KPT

— Wisconsin Basketball (@BadgerMBB) March 29, 2015
10- Twitter mirror selfies won, period.
Twitter has distributed their mirrors to several teams, and as the stats prove, they are all the rage.
MOVIN' ON! AGAIN! #SweetSooners pic.twitter.com/sUtoALPBr9

— Oklahoma Basketball (@OU_MBBall) March 23, 2015
Final Four selfie! #Badgers #OnWisconsin pic.twitter.com/fj28BeqtNs

— Wisconsin Basketball (@BadgerMBB) March 29, 2015
11- Notre Dame saluted to its seniors.
This tweet is crafted perfectly with its simplicity, copy and imagery. It's another great example of how to handle a loss. It's not always about the scores.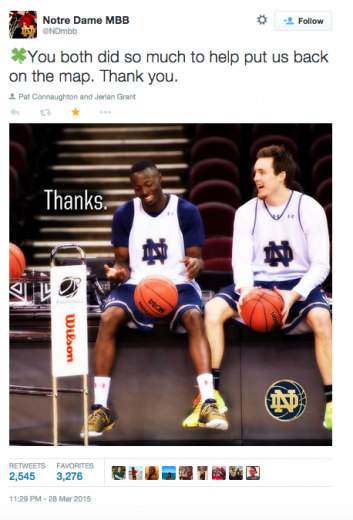 12- Wisconsin displayed sportsmanship, Twitter style.
This is a great way to tap into conference pride, while showing  sportsmanship. Clearly fans enjoyed it too.
Congrats @MSU_Basketball – see you in Indy. #B1G pic.twitter.com/NKzAbK3tYz

— Wisconsin Basketball (@BadgerMBB) March 29, 2015
13- March Madness + Dove found the perfect sponsorship play.
Dove is leveraging a March Madness sponsorship to showcase how the men of the tournament demonstrate real strength through uplighting, heartwarming and emotional stories. The content couldn't be more on brand for Dove, and it's also extremely compelling for fans (just look at the engagement below). The example below, on Ron Hunter and his son, was a huge slam dunk.
Bigger than basketball. A heartwarming end to a special tournament run. #MarchMadness #RealStrength http://t.co/LbGsZeDOjf

— NCAA March Madness (@marchmadness) March 22, 2015
14- Duke garnered great engagement thanks to selfies.
Duke Basketball has been turning out some fantastic content/graphics, but again and again their team selfies win. Just like the Twitter mirror selfies, this type of content works well on Facebook.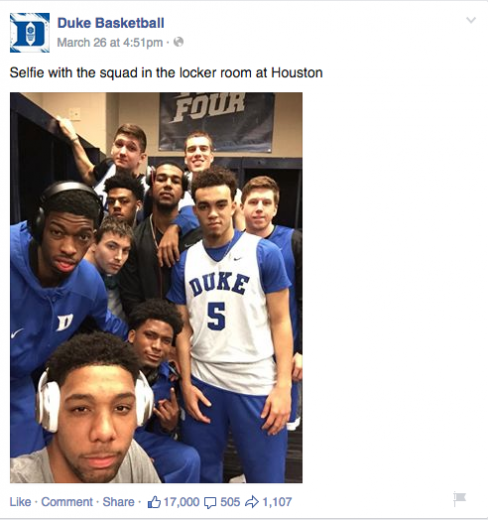 15- Zags won with "Born to Ball" promo.
This video promo from Gonzaga Men's Basketball is a great example of compelling video content that find a unique parallel story. They tapped into childhood footage of one of their student-athletes, finding a unique correlation to their game in the Sweet Sixteen. The video on Facebook garnered more than 100,000 views, which is twice that of their Facebook audience.
16- @NikeBasketball created simple videos, shocked the game.
This video series from Nike Basketball earned good engagement, proving that good content doesn't have to be complicated.
Show heart. Stay hot. #ShockTheGame @MSU_Basketball pic.twitter.com/FYkSMdTjWo

— Nike Basketball (@nikebasketball) March 29, 2015
17- Duke leveraged the hometown storyline.
When planning content, both for something like the NCAA tournament or the regular season, it's important to look beyond the surface for storylines. This "coming home" content from Duke is a great example of extending the story beyond the court.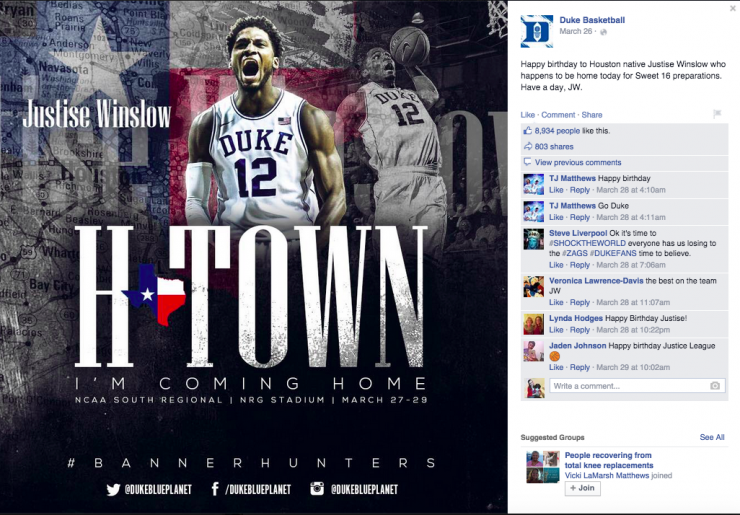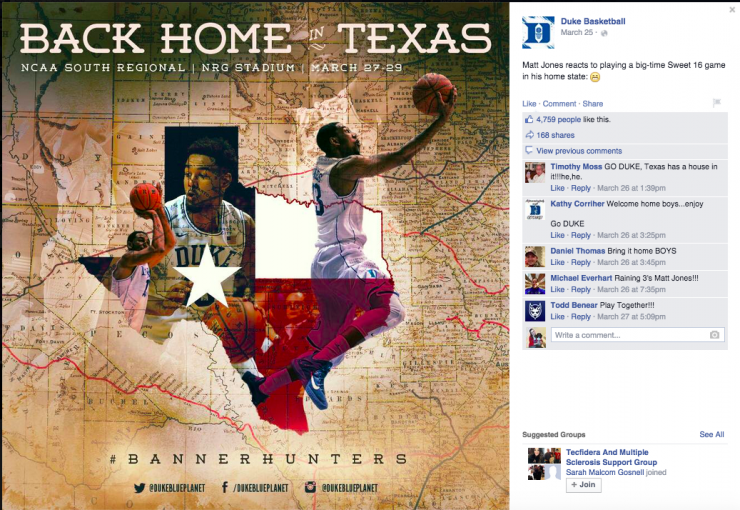 18- UAB played Cinderella gracefully.
When UAB knocked off No. 3 Iowa State, they became one of the Cinderella stories early in the tournament. They played the part gracefully, with an on-brand image and copy that fit the Cinderella part.
Does the slipper fit? @UAB_MBB knocks off No. 3 seed Iowa State, 60-59! pic.twitter.com/VTAFtyMHX8

— UAB Athletics (@UABathletics) March 19, 2015
19- The Shockers played off of emotion.
This is another great example of how to handle a loss and salute your seniors. The copy and the image is all so simple and perfect.
20- March Madness went beyond the court.
Off-the-court stories help fans connect emotionally to players, coaches and staff. This feature shared on the March Madness Facebook page is a great example of the power of emotional stories. The video has had 1,588 shares with more than 207,000 views. Those are powerful numbers.
21- Georgia State shared a priceless fan reaction video.
Fans produce a lot of golden content, and fan reaction videos are always some of the best around. A simple share of a fan video earned @GSUPanthers 247 retweets. Not too shabby!
Who else has one! RT @GaStateGolf: UNREAL. Let's go STATE! #NCAATournament pic.twitter.com/sNqqQjvmLA"

— GSU Panthers (@GSUPanthers) March 19, 2015
22- March Madness created some Vine magic.
This type of Vine content is stellar. Simple, but flashy. What a weirdly awesome combo!
23- Villanova thanked their fans.
Thanking your fans at the end of the season is always a smart play. This is a good example of doing so from Villanova.
24- CBS said "deal with it".
When Michigan State busted more brackets, CBS Sports created this meme GIF. This is a great example of creating humorous GIF content while staying on brand/topic.
Oh, you didn't have 7-seed Michigan State in your Final Four? pic.twitter.com/j4YuKKcEuT

— CBS Sports (@CBSSports) March 29, 2015
25- Pac-12 Conference closed out Oregon's run right.
This is another great example of handling a loss right. The image and the copy are emotional and strong: The perfect combination for the moment.
BONUS- Boilermakers caught a moment of reflection.
After their loss, Purdue caught one of their star players looking on at Kentucky. All he wanted was a chance to play them. This is a great example of catching the strong, emotional moments that happen off the court. Always be on the lookout.
A.J. Hammons standing in the tunnel dejected watching Kentucky play. #BoilerUp pic.twitter.com/qPsgjCE2se

— Purdue Basketball (@BoilerBall) March 20, 2015
So as we wait for the Final Four to begin, I hope these social media moments serve as a nice distraction! If the coverage so far is any indication, the second screen action during the Final Four will be a fun one to watch!
---
I realize there are many other great social media moments from the tournament so far (it's hard to catch them all), so please share your favorite ones with us below!
Thanks for reading! 
Like what you read? Please share!
0