Last night was the first College Football Playoff Championship. And if you are a social media and sports dork like me, you were probably just as glued to your second screen as you were the TV. There is something special about what takes place on social media during big-time sporting events: The community, the chatter, the camaraderie, the rivalry and the emotion that unfolds in real time is fun (and addicting) to watch. Everyone goes on the journey together.
Last night was no different. People took to social media to voice their opinion and join the chatter. Over 4.4 million Tweets containing terms related to the game were sent during it according to Twitter. On Facebook, 7 million users were responsible for 21 million + interactions (posts, comments and likes) according to Adweek.  That's impressive.
What was also impressive was the amount of content produced. From the teams, media and partners, everywhere you turned on social media there was content. And while all the coverage and content was good, there are a few things that stood out for me. Below is a look at four social media winners from the College Football Playoff Championship, with insight into why and what to takeaway:
NIKE
With two teams in the game, Nike was a winner before the game even started. And in true Nike fashion, they capitalized on the opportunity: They pushed out simple and sleek content before, during and after the game on both their Nike and Nike Football platforms:
Their content generated good engagement. Here's a look at the numbers they garnered across each platform (from both Nike and Nike Football accounts):
Twitter: 29,500+ retweets and 12,600+ favorites across four tweets
Facebook: 70,550+ likes, 860 comments and 8,650 shares across three posts
Instagram: More than 415,000 likes across four posts
Why the won: I love what Nike executed during the game. The content was simple, emotional and understated. It was true to their brand.
I think Nike's biggest win (besides their infamous coin toss photo) came from the game-winning graphic and poster. It speaks eloquently to Ohio State's season and should resonate with Buckeye fans everywhere: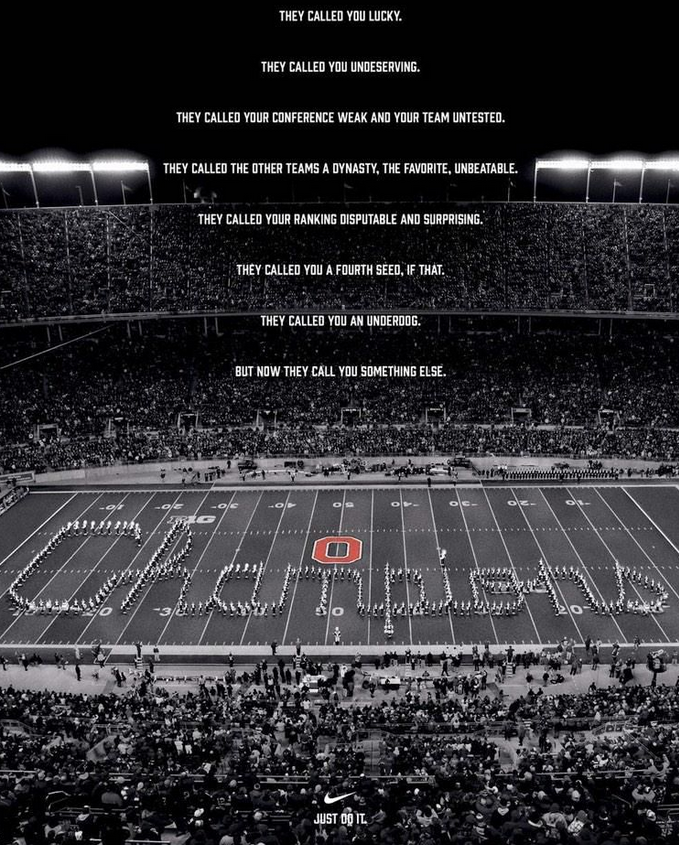 Takeaway: Again and again Nike proves that you don't have to push out a ton of content to make a big splash. Plan for the big moments and keep it simple. Focus on your image choice and nitpick the copy. Pay attention to the emotion in the game. Create something that will tug at the heartstrings of fans and resonate.
Snapchat
Snapchat's Our Story has proved again and again to be a big hit during live events. This game was no exception as their team curated Snaps from Arlington for the CFB Championship Story. Here's a glimpse of the featured content:

Why the won: As I perused various accounts last night, Snapchat proved to be the best source for behind-the-scenes content. There's something special about Snaps from student-athletes as they prep for the biggest game of their life; a firsthand look at the student section; and a selfie of the band as they walk out onto the field. Our Story provides fans with a unique and raw look at sporting events. It's a huge win.
Takeaway: I've talked a lot about access these days. Behind-the-scenes content puts fans in the middle of the emotional journey. It's a teams story to tell; don't let Snapchat be the only one telling it.
Oregon
The job of a social media manager gets a lot harder when the team faces adversity and defeat. Too often though, we see teams walk away from the keyboard when their team doesn't win. Thankfully, the Ducks didn't do that. Here's how Oregon handled their loss on Facebook, Twitter and Instagram:
And, want to see something awesome? Look how positive the Facebook comments are: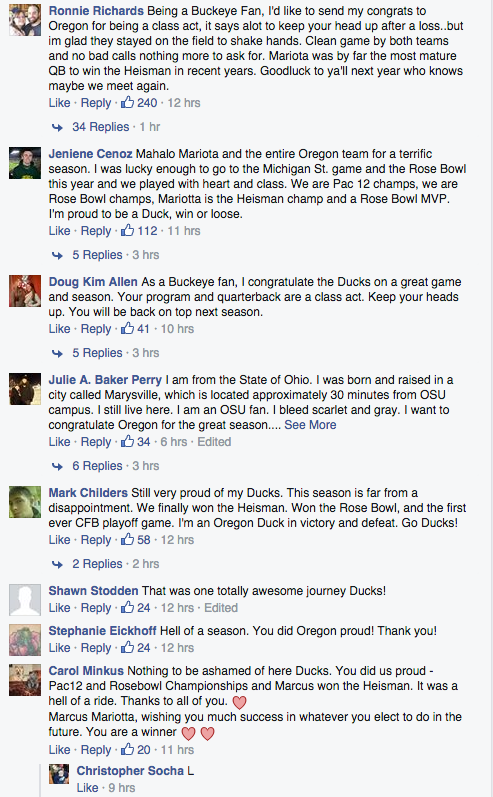 Why the won: Oregon not only handled their loss on social media, but they handled it with emotion and grace. Their student-athletes fought hard all season and the entire UO Community should be proud. The copy and imagery they picked speaks perfectly to that.
Takeaway: Losses can be handled on social media. It's not so much about the score, but about the emotional journey it took to get there, the fans, the family and the players. Keep it powerful, simple and emotional.
ESPN on Twitter
ESPN stepped up their social media game this football season. I feel like more than ever, they integrated social media with their programming. And, last night their coverage was really good:
Why the won: What I love about ESPN's social media presence is their diversity of content. From photos to stats to features to highlights, they mix up their content all the time. When you look at their feed, it's not just boring play-by-play. Their content enhances the game-viewing experience.
Takeaway: When preparing for a big moment, think about all the different ways to cover the game. There are so many different elements that can enhance the game for fans, from feature stories to video snippets, stats and more. Diversify the content. Take a content-first approach.
While there were many great moments last night, I thought these four examples have good lessons attached to them. So kudos to Nike, Snapchat, Oregon and ESPN for standing out from the crowd!
Side Note: I also thought the #BackthePac campaign was stellar, but I'm going to have a separate post on that campaign. More to come on that one!
---
What were your highlights from the coverage last night? Be sure to share them below. 
Thanks for reading. 
0