Twitter and sports make a perfect combination. It's the platform where fans flock to watch games and commentary unfold. There's something about the flow and fast cadence that make the two a natural fit. Twitter's founders must have known this combination would work, after all, their precious little blue bird is called Larry (yes, after Larry Bird the basketball player).
The stats prove it's the perfect combination. According to Navigate Research, sports fans are 67 percent more likely to use Twitter to enhance their viewing experience compared to non-sports fans. Additionally, sports comprise 1% of all total TV minutes, but 50% of all TV-related tweets (source: Nielsen).
Yes, there's something special about watching sports unfold on Twitter. Below are just some reasons why the two are so magical together (with some really great moments):
No. 1- Twitter allows teams to react with fans in real time.
With the more public nature of profiles (typically) and easy search function, social media mangers can know the pulse of their fans in a split second. This allows teams to react with fans in the moment and not talk at them.
On Twitter, team personalities feel like they are sitting in the living room with fans. This real-time reaction with fans is a pretty cool thing.
No. 2- When appropriate, fans/teams get called out.
Sometimes, it's okay to let someone feel the burn. These examples below are Twitter at its best.
@penguins Strange. Our latest observations show no Penguin activity currently on ice in Pittsburgh. Where did they go?

— Discovery (@Discovery) May 14, 2015
@jr22tank Sounds like you might need to get your eyes checked pic.twitter.com/ixaFa3FgyI

— Tampa Bay Lightning (@TBLightning) May 12, 2015
Learn how to spell Sam Dekker's name, America. Dude's got 15 at the half. #UNCvsWIS #Sweet16 pic.twitter.com/PVTgZSKrUB

— NCAA March Madness (@marchmadness) March 27, 2015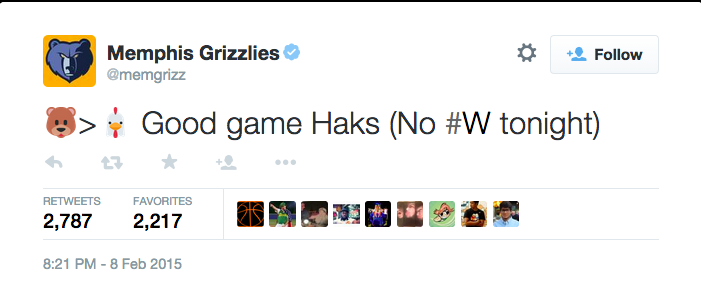 No. 3- The conversations are always golden.
Where else do you get to see epic conversations unfold like this? There is something about Twitter conversations that promote a little humor, snark or sass.
@rogerfederer let me know if you ever want to go down this route.. Think it would be good for your image pic.twitter.com/8648JpMHC0

— Andy Murray (@andy_murray) March 12, 2015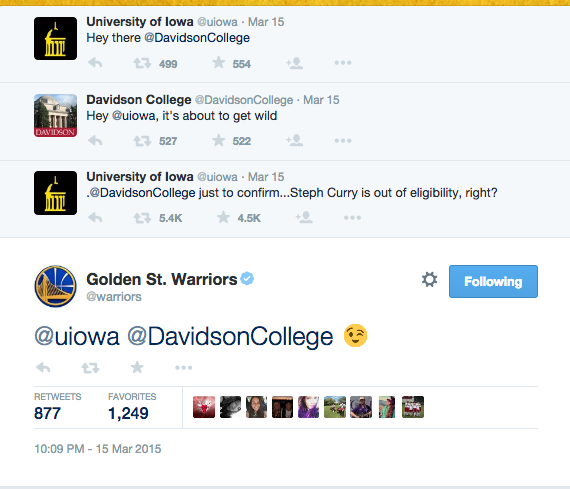 .@Holgorsendana pic.twitter.com/quchs8csTj

— Jake Spavital (@JakeSpavital) December 9, 2014
@Mariners pic.twitter.com/4G18evc3Vk

— Seattle Seahawks (@Seahawks) December 22, 2014
@trailblazers We asked you to keep that on the down low. That eager to get rid of us already?

— Phoenix Suns (@Suns) December 4, 2013
No. 4- And sometimes, teams bust out a holiday jingle.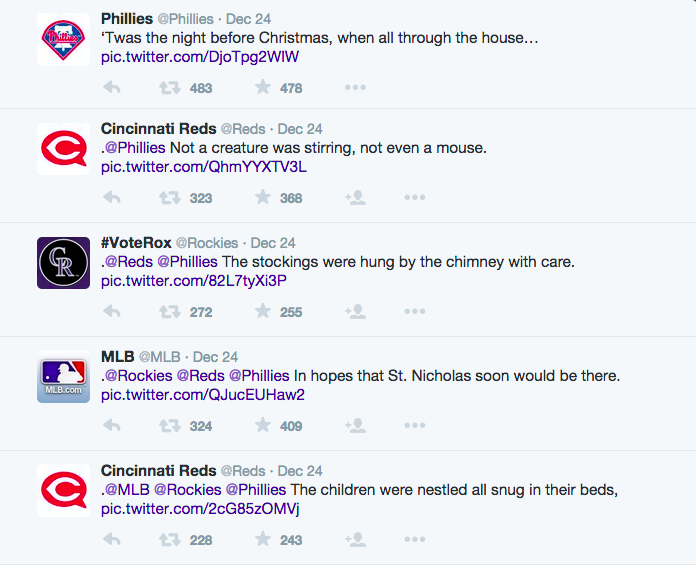 No. 5- Rain delays mean old-school games.
Because tic-tac-toe and rock-paper-scissors will never go out of style.
Ok, @Dodgers. A little rain delay tic-tac-toe? Let's go! pic.twitter.com/xkMUWLm5cb

— #VoteRox (@Rockies) May 9, 2015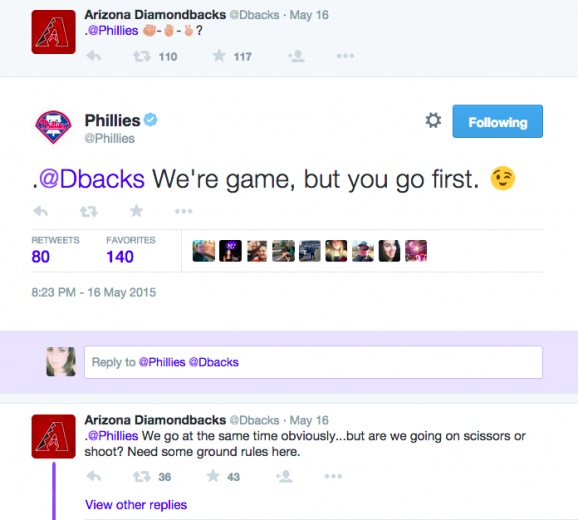 No. 6- Hashtags help to rally.
Hashtags are a great way to foster community and conversation, and naturally, teams and leagues get excited when they (or relevant conversations) start trending. It's like Twitter's own badge of honor!
Vin Scully and #nohitter are trending right now on @twitter.

— MLB (@MLB) June 19, 2014
#Panthers & #KeepPounding are trending in Charlotte and the game has not even started. Panthers Fans = Best Fans pic.twitter.com/3dlL1A6VVi

— Carolina Panthers (@Panthers) August 17, 2014
No. 7- Teams surprise and delight.
There's something special about the power of active listening. Even the simplest gesture (like personalized content) lets a fan know the team cares. Twitter gives the ability for teams to listen and act easily.
@SarahSpain Sarah, will this help? ¯_(ツ)_/¯ pic.twitter.com/0Yc7AosZMJ

— NHL (@NHL) May 20, 2015
fyi, @Seahawks are true #smsports winners… they listen, engage and love their fans back. look what just arrived! pic.twitter.com/xKXlFULGJZ

— Jim Delaney (@activate) January 30, 2014
@CoCoBeans81 Way to get into the #Spiritof12. pic.twitter.com/oYvHVIyJqs

— Seattle Seahawks (@Seahawks) January 26, 2014
No. 8- Sportsmanship is alive and well.
Congrats @MSU_Basketball – see you in Indy. #B1G pic.twitter.com/NKzAbK3tYz

— Wisconsin Basketball (@BadgerMBB) March 29, 2015
@TomYoungs87 cheers mate. The jersey can overcome us in the heat of battle. I owe you a pint. #respect

— SalesiMaafu (@SalesiMaafu) May 17, 2014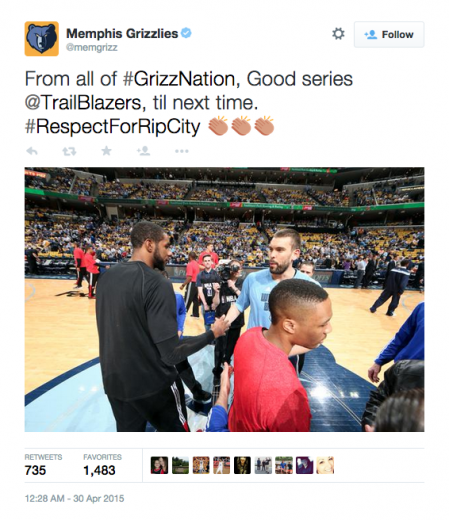 No. 9- Athletes reward their biggest fans.
Thanks to Twitter, you can have a beer with Kevin Harvick or get tickets from your favorite player simply by asking. Amazing, right?
Rain out so we are having a few @Budweiser's! If you can find us the beers on me! pic.twitter.com/cg5kK24xIP

— Kevin Harvick (@KevinHarvick) January 9, 2014
And yes, fans found their way to Harvick to enjoy a beer with him. Read about it here.
@nknapple I have 2 for you tomorrow night

— Brandon Finnegan (@bfinny29) October 13, 2014
No. 10- And the @Cubs can have a little fun with the President.
When President Obama followed all Chicago sports teams but the Cubs, they had the perfect response. This tweet deserves a class of its own.
@POTUS We're big fans of America. Just saying. #YouMissedATeam

— #VoteCubs (@Cubs) May 18, 2015
---
What moments in Twitter and sports have been some of your favorites? Share why you think the two are a great combination below.
Thanks for reading! 
Like what you read? Please share!
0