If you follow the NBA on social media, then you know the league and teams get the social media and digital landscape. From fun banter to crazy trending hashtags and good video content, they have embraced social media unabashedly as a way to connect with their fans and their target audience. The focus is paying off as the league has added 240 million new fans since the end of last season.
Now that the regular season has ended, seven social media/digital managers shared their top moments from it. Here they are, with my takeaways on what we can all learn:
Atlanta Hawks- All About the W's
Twitter | Facebook | Instagram |
For Atlanta Hawks, their top moment was the W's in their Twitter name during the 19-game winning streak. They started adding a W to HaWks for every game of the streak. When it got too long for Twitter, they had to scramble, and they started adding them to their avatar.
Not only did they add W's to their name, but the Hawks created social content to highlight the all-important update to their Twitter name. It was a simple tactic, but smart, tactic that garnered attention from both the media and fans.
Twitter name maintenance: https://t.co/PQ72eQvNc4

— Atlanta Hawks (@ATLHawks) January 26, 2015
Lesson: The Hawks have not played by the rules this regular season. Whether it's platform best practices or Twitter name character limits, the Hawks do things their way and creatively. It's a great reminder that we don't always have to play in the box we have been given.
Thanks to Jaryd Wilson, the Atlanta Hawks Digital Content Manager, for his insight with this post. Give him a follow on Twitter: @JarydWilson 
Portland Trail Blazers- LA Returns and #WeTheNorthToo
Twitter | Facebook | Instagram | Piece on the Digital Team
1- LA Returns
It was probably the best news their team received this season. LaMarcus Aldridge, thought to be out for the rest of the season, decided to postpone surgery and play through injury the rest of the season. The news caught everyone – even the PR staff – off guard. After tweeting the official "news", the team decided to stay true to our voice and have some fun with it. As you can see from the tweet below, it certainly resonated with their fans:
When you tell your friends LaMarcus is putting off surgery and returning to the lineup pic.twitter.com/ksvMuJ1HGD

— Trail Blazers (@trailblazers) January 24, 2015
Lesson: There are many times when your team or league is going to have to put out official announcements in a formal manner. If the news is positive though, keep the momentum going with fun, on brand content that will really resonate with your audience (just like the Trailblazers did). Big news and announcements should not be a one and done approach.
2- #WeTheNorthToo
Someone pointed this out earlier in the season, so the Trailblazers team had this content in the cue. According to Simply Measured, the tweet received 41x more engagement of their average tweet and earned the highest engagement of the season.
Hey @Raptors fans, let's be friends. Technically #WeTheNorthToo. pic.twitter.com/7SiUhpT2y9

— Trail Blazers (@trailblazers) December 31, 2014
Lesson: Listen to your audience and those around you for content ideas. Take the ideas and store them away for the perfect timing.
Thanks to Kris Koivisto, the Trail Blazers Managing Editor, for his insight with this post. Give him a follow on Twitter: @KrisKoivisto
San Antonio Spurs- Inspiring Homework
Twitter | Facebook | Instagram |
This tweet was one of the best stories from the Spurs' season. The photo below was sent to the Spurs Facebook account by the mother of a little boy who asked her to check his homework. The social media team gets hundreds of messages a day, but this one stood out. The reaction on Twitter was wonderful and Danny Green retweeted it himself. Later that week, Danny grabbed a Spurs franchise record for 3-pointers made in a season. After his post-game interview that night, he told us that his friends have started calling him "moneyball" in honor of the homework assignment.
https://twitter.com/spurs/status/585513607896682496
Lesson: Fans are generating fantastic content for you to share everyday. Keep your eyes and ears open for user-generated content to leverage. User-generated content is cost effective, pulls fans into your community and provides a different perspective. Start leveraging it now!
Thanks to Megan Julian, the Spurs Social Media Coordinator, for her insight with this post. Give her a follow on Twitter: @emjayy22
Denver Nuggets- Embrace a Gold Medal Run
Twitter | Facebook | Instagram |
The top social moment from this past year for the Nuggets was their campaign around Kenneth Faried's gold medal run during the World Cup of Basketball. The team used the hashtag #GoFariedGoUSA, changed the name of @denvernuggets from 'Denver Nuggets' to #GoFariedGoUSA throughout the campaign and promoted/supported the USA's run to gold and Faried's involvement on all digital platforms. It was truly a cross-platform approach for the Nuggets. Here's a look at some of the content from the campaign:
Let's show Faried we have his back! Use #GoFariedGoUSA to send videos, posters & words of encouragement this week. pic.twitter.com/WvP19WMK9t

— Denver Nuggets (@denvernuggets) August 25, 2014
It's your time, @KennethFaried35. #GoFariedGoUSA http://t.co/zHNkSxaJis

— Denver Nuggets (@denvernuggets) August 30, 2014
#DunkLikeANugget #GoFariedGoUSA pic.twitter.com/WssveTcT6V

— Denver Nuggets (@denvernuggets) September 13, 2014
Lesson: When there's an opportunity to tell a broader story, like Kenneth Faried's gold medal run, be sure to take a cross-platform approach and vary your content. The Denver Nuggets campaign was strong because they tapped into all their platforms, varied the content and told the story from beginning to end.
Thanks to Jared Harding, the Social Media + Digital Director at KSE, for his insight with this post. Give him a follow on Twitter: @jaredharding
Detroit Pistons- Emotional Reunion
Twitter | Facebook | Instagram
For the Pistons, one of the coolest things from their season was a surprise military reunion in March. They worked with some partners and military organizations to surprise the mother of Private Namon Bledsoe. Their halftime performer Gloria Gaynor helped with the surprise and Andre Drummond helped lead out Private Bledsoe to his mom. The Pistons used the opportunity to also tell the story of Private Namon Bledsoe online through video (which earned more than 60K YouTube views):
Lesson: Many teams have in-venue moments and promotions that could also be a strong story to tell online. Find which promotions have emotional elements to tell online in a compelling way and leverage them like the Pistons did. It's important to merge your in-venue initiatives with your online ones.
Thanks to Doug Wernert, the Social Media Director at the Pistons, for his insight with this post. Give him a follow on Twitter: @dougwernert
Cleveland Cavaliers- Digitally Dominant
Twitter | Facebook | Instagram
This season the Cavs embraced several digital initiatives that really set them a part. One example is their 2014-15 Season Timeline. The Cavs created an interactive, sliding page that encapsulated the tremendous year for their organization — and it is being updated through the postseason. While it's a webpage, they will be sending social highlights of the moments included and directing fans back to cavs.com/timeline.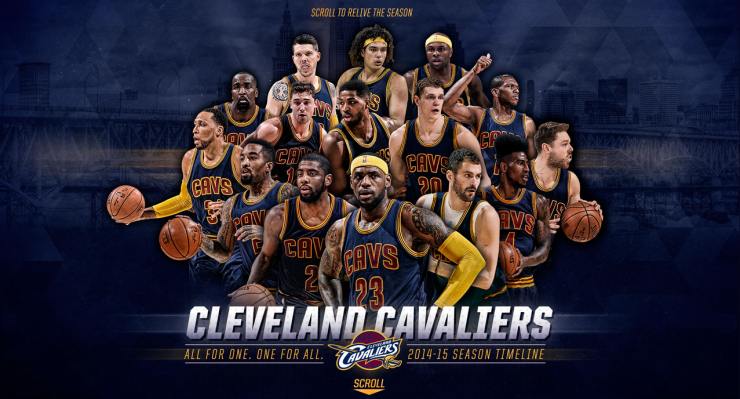 Lesson: 140 characters alone isn't always enough to stand on. Think through the stories you want to tell strategically and then find a way to tell them, both through digital and social platforms. Make sure that both components work together and not in a silo. Together, your web and social presence can tell a more powerful story.
Thanks to Michael Conley, the VP of Digital at the Cavs, for his insight with this post. Give him a follow on Twitter: @mpconley
Sacramento Kings- Got Tacky
Twitter | Facebook | Instagram
In November, Sacramento launched their Kings "Ugly Sweater" with a photo shoot of some of the players rocking the sweater in various (clearly staged) locations. It was immediately shared across several National blogs as well as featured on The Today Show. And, the sweater ended up selling out online and in-store within a few hours. They also hosted an "Ugly Sweater Night" a few weeks later to build off of the excitement and momentum of the initial launch.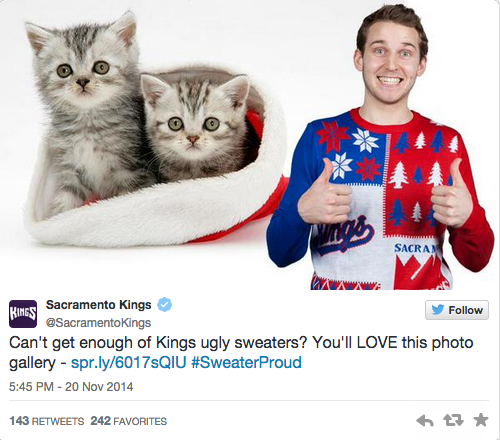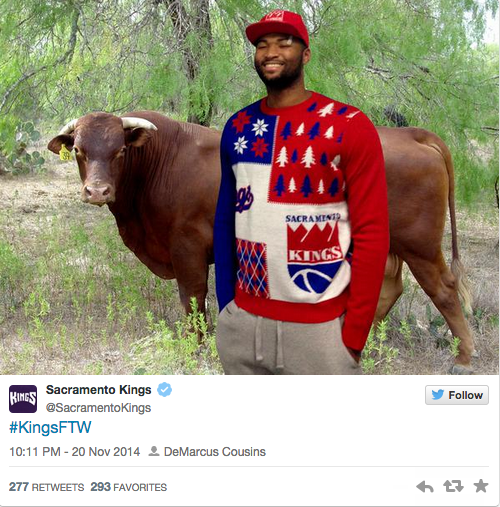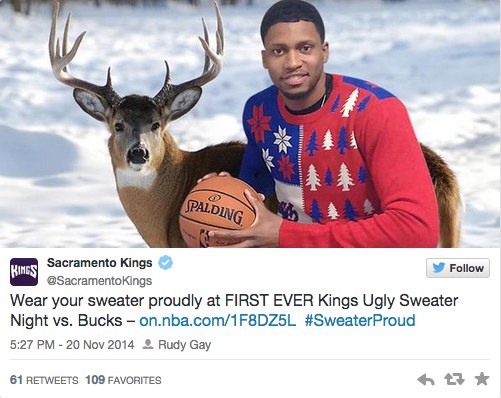 Lesson: One of the great things about working in social media is the platforms should to be fun. There's no need to be stiff and robotic all the time. If there's an opportunity to show humor through content with a campaign, while remaining on brand, then go for it. As the Kings show, humor resonates.
Thanks to Jason Wise, the Manager of Digital for the Sacramento Kings, for his insight with this post. Give him a follow on Twitter: @Jason_Wise
This list just skims the social highlights of these teams and the league throughout the season. As you can see, there's a lot of inspiration in the NBA so give the teams a follow to get inspired digitally and socially.
---
What were some of your favorite social media moments from the NBA regular season? Be sure to share them below!
Thanks for reading!